The power behind the throne at General Motors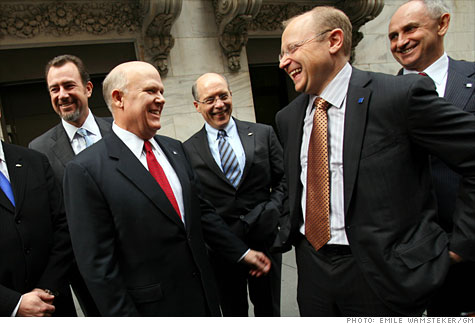 FORTUNE -- Unnoticed and reported in last month's management changes at General Motors were two important direct reports that were assigned to vice chairman Steve Girsky. The new responsibility makes Girsky GM's second most powerful executive and solidifies his unique position in the corporate hierarchy.
In January, CEO Dan Akerson named Girsky, 48, to oversee global purchasing and product planning. The appointments were announced internally, but GM (GM) failed to include them in its official news release and they have not been previously reported.
Girsky had plenty on his plate before he got the new responsibility. His official title was vice chairman, corporate strategy and business development. In that capacity, he is the only GM employee besides Akerson who sits on the board of directors.
Girsky also served as senior advisor to former CEO Ed Whitacre, and informally performs the same function for Akerson. By all accounts, they value his advice. Neither man had any auto industry experience before becoming CEO, whereas Girsky has been around the car business for 25 years as a securities analyst and investor.
Girsky is known for possessing one of the largest Rolodexes in the business and enjoys an unusually strong relationship with the United Auto Workers union; he was first appointed to the GM board as the representative of the union's VEBA trust. He will be the company's key strategist when contract talks begin later this year.
Besides all that, Girsky was a key driver behind GM's IPO last fall and used his Wall Street contacts to lay the groundwork for the successful stock offering.
To round out his portfolio, Girsky is also in charge of GM's OnStar business, where he changed top executives last month.
The responsibilities for purchasing and product planning came Girsky's way when Tom Stephens was moved out of his global engineering job and replaced by Mary Barra, head of human resources.
Since Barra, 49, came up through manufacturing and had little experience with vehicle engineering, the purchasing and product planning pieces of Stephens' job were assigned to Girsky.
From having 15 people serving under him a year ago, Girsky now oversees 6,700 employees in the giant purchasing operation, with its $80 billion budget and another couple of hundred in product planning.
Girsky has a mathematics degree from UCLA and a Harvard MBA. Scary smart and lightening quick, he vibrates with energy. He can be acerbic and blunt, but he possesses a disarming sense of humor and an infectious laugh. A longtime New Yorker, he recently donned a green Jets football jersey to make a point at a meeting of some 300 GM executives.
Girsksy was a candidate for CEO before Akerson took the job last September and could be again when Akerson steps down. But his family has remained in the New York suburbs while he commutes weekly to Detroit by commercial aircraft, and he has expressed reluctance to uproot his high-school age children and relocate them to Michigan.