House Republicans detail cuts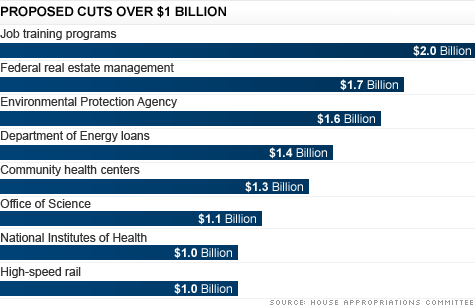 NEW YORK (CNNMoney) -- House Republicans released a dramatic budget proposal on Wednesday that would result in sweeping cuts to federal agencies and government services.
The GOP would slash the Environmental Protection Agency's budget by 16%, cut $758 million from a program that provides food to low-income children and eliminate almost $1 billion in assistance for local police departments.
The resolution would fund the government for about the next seven months at $74 billion below President Obama's 2011 budget request, and singles out non-security discretionary spending, which is less than 15% of the budget, for a massive cut of $58 billion.
In practical terms, the spending decrease is actually closer to $35 billion, since Congress failed to pass a budget for fiscal year 2011, and agencies have been operating at 2010 funding levels.
For months, it has remained unclear which programs House Republicans would focus their cuts on, but the new plan lays it all out on the table.
In total, cuts of more than $1 billion would be made in eight program areas, including the unit that manages federal real estate, a Department of Energy loan program, job training programs, community health centers and the agency focused on physical science research.
The cuts touch nearly every corner of the discretionary budget. Amtrak would see its funding fall by $224 million, and funding for high-speed rail programs would decrease by $1 billion. Funding for the National Institute of Health would be cut by $1 billion and the Centers for Disease Control and Prevention would lose $755 million.
The list goes on, naming 70 specific cuts. Some politically sensitive areas, like education funding, are left untouched.
House Republicans want to incorporate the cuts into the latest so-called continuing resolution, a measure designed to allow the government to spend money while lawmakers complete work on a full budget. The current continuing resolution expires on March 4.
House Appropriations Chairman Hal Rogers, the Kentucky Republican who announced the proposal, likened the process to taking "a wire brush" to the discretionary part of the budget, and acknowledged that the plan would have wide-reaching implications.
"These cuts are real and will impact every district across the country -- including my own," Rogers said. "[W]ith this [continuing resolution], we will respond to the millions of Americans who have called on this Congress to rein in spending to help our economy grow and our businesses create jobs."
The proposal sets up a battle between House Republicans who campaigned on spending cuts, and the Senate Democrats, who still hold a majority in the upper chamber.
Sen. Chuck Schumer, the influential Democratic message man, labeled the cuts "extreme ideas."
"We need to cut spending, but we need to do it by focusing on waste. This proposal would get rid of cops that keep our streets safe, food inspectors that keep our food safe, and cut home heating oil for seniors," Schumer said.
In its current form, the resolution stands little chance of surviving the Senate and President Obama's veto pen.
But the measure will be part of Washington's debate on spending. Over the next couple months, Congress will have to decide whether to raise the debt ceiling, how to fund the government for the remainder of fiscal year, and start work on the 2012 budget.
The continuing resolution is a top priority, as the federal government will be forced to shutdown if an agreement is not reached before March 4, when the current temporary measure expires.