I pay my wife to do my laundry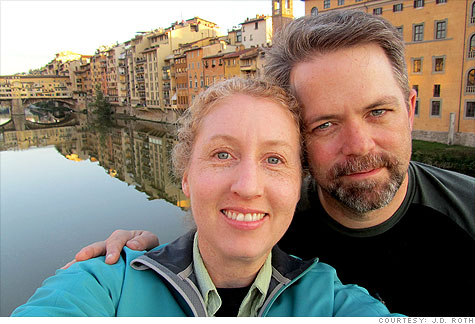 J.D. Roth was a regular guy who found himself deep in debt. He turned his life around, learned about money and finance, and started the Get Rich Slowly blog. He lives in Portland, Oregon, with his wife and four cats.
When I was a boy, my parents fought about money. Often. And loudly. Each accused the other of being financially irresponsible. (Both were right.) They had joint finances, but it didn't matter -- they couldn't keep the checkbook balanced.
My wife and I have been together for 22 years and married for 17. In that time, we've never fought about money. Not once.
Like all couples, we have arguments now and then, but they're not about our finances. (They're often about how much of a slob I am!) We've had separate accounts from the beginning.
Some people find this strange. They feel that keeping separate finances fundamentally undermines the nature of marriage. But it's one of the best things we've ever done. This system works for us because:
• We have no children.
• Our salaries have always been roughly equivalent.
• We've found a way to split household bills evenly.
To keep things running smoothly, we've made many small negotiations over the years. Because I like to dine out more than Kris does, for instance, I pay for most of our restaurant meals. In return, she pays for most of the groceries.
Or, since I'm a procrastinator, Kris buys all of the cards and gifts for our friends. And because I have a bad habit of bringing home cats, I pay most of the pet-related expenses.
We've made dozens of small financial arrangements in our marriage, but it's our laundry agreement that amuses everyone we know.
As I mentioned, I'm a slob. Despite my best intentions, I leave a mess wherever I go. As a result, Kris and I have made some compromises to keep us both happy.
Long ago, for instance, we hired a housekeeper to come in for a few hours every two weeks. Some people are shocked by this -- "That's not frugal!" they exclaim -- but hiring a housekeeper was a small price for marital harmony.
No surprise then that I'm not good with laundry. Left alone, I wouldn't wash my clothes until I'd worn everything I own at least once. How do I know? Because that's how I used to operate.
I had mounds of dirty clothes in the laundry baskets, but nothing clean in my closets and drawers. Once every month or two, I'd spend a day doing massive loads of laundry. I hated it. So did Kris.
Sometimes, I'd start a load...and then forget about it. When Kris went to do her own laundry several days later, she'd discover my damp and mildewed clothes still in the washer. (That's the sort of thing we fight about in our marriage.)
Eventually, Kris came to me with a proposal. "J.D.," she said. "I'll do your laundry, but on one condition."
"What's that?" I asked, fearing it'd be something dreadful. Like cleaning the bathtub every week. Or mopping the floors. Or eating broccoli.
"In exchange, you have to put gas in my car whenever it's empty," she said.
I tried to stifle a laugh. "No problem!" I said.
"And you have to pay for that gas," Kris said.
"Ah," I said.
I thought about it. Because she doesn't drive often, her car only needs gas once a month. At that time -- in 1996 -- my cost would be about $15 per month, which seemed plenty fair, especially since I didn't mind the chore at all.
"I'll do it," I said.
And for the past fifteen years, we've maintained this arrangement. Kris does my laundry, and I put fuel in her car. It works well for both of us.