No iPhone? No problem for Sprint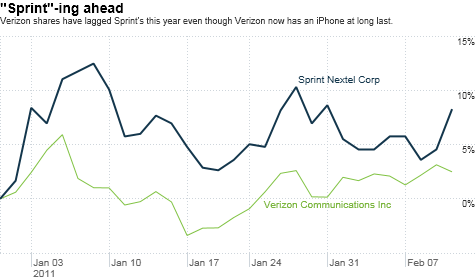 NEW YORK (CNNMoney) -- iPhone, schmiPhone!
Sure, Verizon customers are excited that they can now join AT&T subscribers as owners of arguably the coolest smartphone on the planet.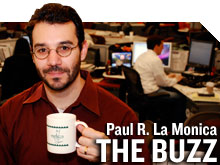 But get a load of this. Sprint Nextel, the nation's third-largest wireless carrier, seems to be doing OK without that little Apple phone.
Sprint reported its fourth-quarter results Thursday morning. While the company is still losing money, investors were encouraged by the fact that Sprint (S, Fortune 500) posted its first quarterly gain in a key type of subscriber in over three and a-half years.
Shares of Sprint shot up nearly 4% in Thursday trading on the news. Meanwhile, the stocks of Verizon (VZ, Fortune 500) and Ma Bell (T, Fortune 500) (and Apple (AAPL, Fortune 500) for that matter) were all flat.
Sprint is an interesting turnaround story. I last wrote about the company in July. At that time, analysts were concerned that Sprint was too reliant on so-called prepaid subscribers, people that pay for plans in advance -- usually without having to go through a credit check.
That earned Sprint the not-so-flattering nickname of "the subprime of smartphones." But that's what makes Thursday's earnings report such a pleasant surprise.
Sprint added a net 58,000 postpaid subscribers during the fourth quarter. That was the first jump in that measure since the second quarter of 2007.
Further gains will be critical to Sprint's recovery since postpaid customers are the ones who get locked into contracts and spend a lot more on data plans.
According to Sprint, its postpaid customers generated an average of $55 per month in the fourth quarter. The prepaid subscribers only spent about $28 a month on average.
Joe Bonner, an analyst with Argus Research in New York, said Sprint deserves credit for attracting more well-heeled subscribers. But he said that Sprint still faces many challenges.
He joked that if the smartphone world were a sports league, Sprint would win the "Most Improved Player" award. But that's not the same as the "Most Valuable Player" award.
Bonner said Sprint has done a good job of hitching its wagon to smartphones and tablets from the likes of HTC and Samsung that run on Google's (GOOG, Fortune 500) Android operating system. But he said that the lack of an iPhone could eventually catch up with Sprint.
"Sprint has a fairly good lineup of phones, but not having the iPhone will be an issue. It's such an iconic product," he said.
As I mentioned earlier, Sprint is also still losing money. And analysts expect the company to bleed red ink throughout 2011.
The stock has also been bouncing around a lot in recent months due to concerns about what will happen with its partnership with wireless network provider Clearwire.
Sprint owns a majority (but not controlling) stake in Clearwire (CLWR). But there has been tension between the two companies lately due to differences in opinion about how Clearwire should invest its capital.
Still, It's worth noting that Sprint surged in the most recent customer satisfaction ratings of wireless carriers by Consumer Reports. Sprint, which was ranked dead last a few years ago, is now neck-and-neck with Verizon for second best. Consumers' top choice was regional carrier U.S. Cellular (USM).
Jennifer Fritzsche, an analyst with Wells Fargo Securities in Chicago, wrote in a note to clients Thursday morning that the latest quarterly results are a "significant milestone," and is a sign that Sprint "is becoming more relevant in the mind of the consumer."
She suggested that Sprint likely gained market share from AT&T as well as T-Mobile, the wireless carrier owned by Deutshce Telekom.
So if Sprint continues to charm consumers with new 4G-esque (I hesitate to say 4G since, as my colleague David Goldman has pointed out, 4G is largely a marketing myth) smartphones and tablets, it's possible that the company could return to profitability sooner than Wall Street thinks.
Even if it never winds up with an iPhone.
-- The opinions expressed in this commentary are solely those of Paul R. La Monica. Other than Time Warner, the parent of CNNMoney, and Abbott Laboratories, La Monica does not own positions in any individual stocks.