Hit the brakes! Drivers hit the gas instead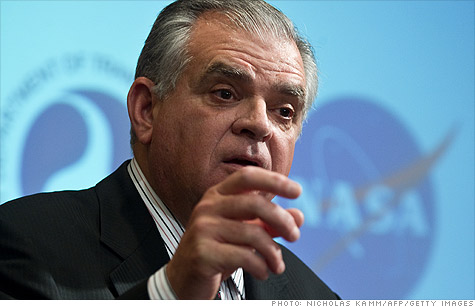 NEW YORK (CNNMoney) -- The number one cause of unintended acceleration isn't problem cars, it's problem drivers.
In the case of Toyota vehicles supposedly speeding out of control, scientists who spent nearly a year investigating the issue say most incidents were caused by drivers confusing the gas and brake pedals.
While making that mistake seems unimaginable, experts say it can actually happen fairly easily.
"It happens all the time because people panic and once the brain is in a panic mode, it stops thinking and your instincts take over," said Miriam Schottland, a driving instructor who specializes in high performance and evasive driving "and your instincts can tell you to do the wrong thing.
She's seen it happen to experienced professional drivers in training situations, she said. Even they can fail to quickly figure out what's happening and correct it.
Safeguards in place
With all the recent attention focused on Toyota's troubles it may seem like sudden acceleration is a new problem, but it isn't. Following a rash of unintended acceleration reports about Audi cars in the 1980s, safety features were adopted by most automakers to make the problem less likely.
First, Audi invented what is known as the "shift interlock" that's now a universal feature on new cars. It requires drivers to step on the brake pedal before shifting out of park. This at least prevents drivers from starting the car while it's in gear, once a common cause of unintended take-offs.
Also, whereas gas and brake pedals in cars were often at the same height, the brake pedal in most cars is now higher up to make it easier to differentiate from the gas.
Those things helped but, apparently, didn't completely eliminate the problem, as the rash of complaints about Toyota's has shown.
In their final report on unintended acceleration in Toyotas, NASA engineers who helped study the Toyota acceleration problem, pointed out various factors that make pedal mix-ups more likely to occur and harder to recover from, not just in Toyotas, but in most modern cars.
For one, today's cars are quieter. It's often difficult to hear the engine running even when the car's being driven. While that makes the car a more pleasant place to be, it can also delay, by a few critical moments, the time it takes a driver to realize the engine is revving up.
Also, car controls, including pedals can vary from one vehicle to the next. Since a lot of driving depends on muscle memory, operating an unfamiliar car can become complicated.
More uniformity in controls might help, said David Champion, head of auto testing for Consumer Reports.
The positions of the gas and brake pedals can vary from car to car, making it easy for an unfamiliar driver to put a foot in the wrong place. Also, the new driver might not recognize the feel of the brake compared to the gas pedal.
"Looking at cars that have been involved in unintended acceleration, it was often not the normal user driving the car when it happened," he said. "It was a valet parker or somebody at a car wash, or a husband or wife.'"
The common advice to drivers in out-of-control emergencies is to shift into neutral but that's hard in some cars, especially since we're not called upon to do it very often.
Creatively designed hi-tech gear selectors are a danger point, said Champion, particularly the fancy electronic toggles used in some luxury and hybrid cars. They can make selecting drive modes something of a puzzle, especially the rarely used neutral position.
Many automatic transmissions today are manually shiftable, allowing the driver can choose to shift gears instead of letting the car do it on its own. Most drivers rarely do this.
In a moment of panic, NASA said, these complex gear selectors can become a maze.
Panicked drivers can accidentally slam the gear selector sideways into the "manual shift" area. From there, they can't easily get to Neutral, the report said.
It would be better if the gear selector at least had to be pushed to the right, away from the driver, instead of towards him, to get into manual shift mode, said Champion. A quick, sweeping grab at the shifter is less likely to knock it into the manual shift option.
Push button start, an increasingly popular feature on many models, can also cause problems because it doesn't work in a consistent way across all cars.
In Toyota cars, the button had to be held down for three seconds in order to turn off the engine while the car is driving. A frightened driver is more likely to stab at the button repeatedly, which will do nothing unless the car is parked. Toyota has already announced that it is changing the way the button operates.
"All of these things are considrations we are constantly looking at in regards to driver-car interaction," Toyota spokesman John Hanson said.
Other major automakers did not respond to requests for comment on the issue.
There is one step that could be taken that would stop most cases of unintended acceleration, Champion said.
"The one thing we could do would be to ban automatic transmissions altogether and sell only manuals," joked Champion.