A cautious bull bets on banks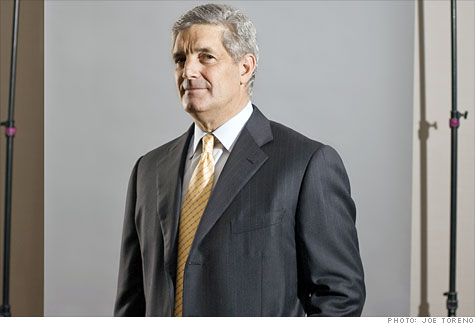 FORTUNE -- Tom Marsico seems awfully agitated for a guy who's bullish on the U.S. economy. Get him started on entitlements or tax policy, and the 56-year-old Marsico can sound more like a Tea Party candidate than one of the most successful money managers of the past 25 years. Since 1997 his Marsico Focus fund (MFOCX) has returned an average 6.6% annually, vs. 3.8% for the S&P 500 (SPX). A self-described moderate, Marsico fears that the wrong moves in Washington could endanger fragile recoveries in the stock market and the economy. But he's still finding plenty of stocks to buy at attractive prices. The chairman of Denver-based Marsico Capital Management, which oversees $51 billion, explained why he still likes Apple and why he's betting on banks.
Q. President Obama has been making an effort to be more business-friendly. Does this encourage you?
A. One of the things the stock market needs is confidence, and I think there is still a lack of confidence in Washington's ability to deal with large-scale problems like the budget deficit, the trade deficit, tax policy, or what we've done with health care. Stocks look cheap right now, with the S&P 500 trading at 13 times projected 2011 earnings. If real GDP keeps growing at a rate of 2.5% or better, you could argue that the multiple on the stock market should be 16 times. But I think we're a long way from that right now because of policy.
Let's talk about your portfolio. You own EOG Resources (EOG, Fortune 500), a gas driller that's producing oil in North Dakota's Bakken Shale region. Do you believe there's as big an oil-and-gas opportunity onshore as off?
I think the onshore opportunity is a lot easier to address than the offshore stuff -- particularly post-BP. The cost of deepwater drilling and the cost of the BP (BP) cleanup were so massive that you say to yourself, Shouldn't we be going after the easy stuff first? There's a tremendous amount of natural gas in shale formations not only here but in China and Eastern Europe as well. New horizontal drilling technologies developed in recent years have been successful in increasing domestic natural-gas production, and now they're finding ways to extract more oil out of these formations. Problem is, the development of these resources is slower than it needs to be.
Marsico Capital is one of Apple's larger shareholders, with 7.6 million shares at the end of November. How concerned are you about the health of CEO Steve Jobs?
It definitely has to enter your calculus, but it hasn't dulled my enthusiasm for the stock. Believe me, I pray for Steve and his family, and I hope that this is just a minor setback. That said, I've spent a lot of time over the past several years getting to know the team at Apple (AAPL, Fortune 500), and I am very confident. That competitive fire, that vision, that spirit, that creativity and innovation -- it's all been passed down from Steve and it's all still there in the company. The value proposition they bring with their products is very, very significant. And as a global marketing company, Apple's capabilities are unsurpassed. In the Asian markets, its products are seen in a similar fashion to some of the higher-branded luxury names like Louis Vuitton or Cartier. No other technology brand has that.
What other stocks are you gung-ho about right now?
Oracle (ORCL, Fortune 500) is one. There's been a lot of consolidation in the database-management area, and now it's basically Oracle and IBM (IBM, Fortune 500). Oracle has married its software with blade servers from Sun Microsystems, which it acquired in 2009, to produce some very powerful server products called Exadata and Exalogic that are being used in data centers and for online transaction processing. The amount of data being produced is exploding, it all needs to be stored and moved and analyzed, and we think these new Oracle products are going to be significant in getting that job done. Plus, at 15 times forward 12-month earnings, we think the stock is cheap, particularly given what we think the growth is going to look like.
What about banks? You own a bunch of them right now, including Wells Fargo (WFC, Fortune 500), U.S. Bancorp (USB, Fortune 500), and PNC Financial (PNC, Fortune 500).
We do own a bunch of bank stocks. I think the banks have written down their bad loans to a level that's appropriate. Reserves are appropriate. I think you're going to see dividends put back in place. And I think the valuations are very compelling. This past quarter you started to see lending pick up. At the beginning of 2010, economists were predicting growth would slow in the third and fourth quarters, yet you saw that GDP growth for the fourth quarter was 3.2%. We watch car sales very closely to get an idea of how comfortable and confident people are about spending money, and the sales data for cars has improved throughout the year.
What don't you like right now?
I'm avoiding health care. Drug development has become very difficult. The low-hanging fruit has been done -- the beta blockers, high-blood-pressure medicines, cholesterol-lowering drugs, pain medication, antibiotics, etc. At the same time, the tough stuff -- like treatments for cancer, for Alzheimer's, and for autoimmune diseases -- is going to be much more difficult to figure out.