Illinois governor proposes borrowing $8.7 billion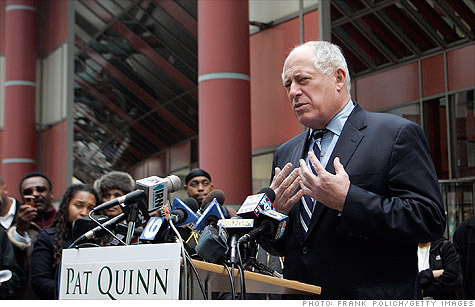 NEW YORK (CNNMoney) -- A month after Illinois lawmakers approved a massive tax hike, Gov. Pat Quinn unveiled Wednesday a $35.4 billion budget that depends on state lawmakers approving $8.75 billion in borrowing largely to clear a towering stack of unpaid bills.
The budget, which increases spending by $1.7 billion from the previous year and closes a $13 billion gap, slashes programs for the elderly, the poor and the disabled, but leaves education funding largely untouched. No layoffs of state workers are suggested.
Quinn emphasized in his budget address the importance of paying off the bills through what he called a "debt restructuring." The state is six to eight months late with its reimbursements, and vendors are charging higher prices as a result. This costs the state up to $1 billion more a year.
Without the debt plan, the state cannot catch up, said Quinn, challenging opponents to come up with an alternate solution.
"Even with our new revenues, if we do not restructure our debt, it will take decades for us to return to the prompt payment cycle of a fiscally responsible government," he said.
Quinn's proposal will likely undergo many changes in the state legislature. Republicans, who took more seats in the last election, have come out strongly against the borrowing plan.
"The governor's scheme has no support among Senate Republicans. I've told him that multiple times since January," Senate Republican Leader Christine Radogno said in a statement Tuesday. "If he submits a budget that assumes borrowing or additional revenues it will not get any Republican support."
As it is, Quinn and Democratic lawmakers had to race to pass a 67% tax hike before the new Republicans took office in mid-January. Personal income taxes will jump to 5%, from 3%, for four years, while corporate income taxes will rise to 7%, from 4.8%.
However, legislators failed to approve a proposal to borrow $8.75 billion to clear the current stack of unpaid bills to social service agencies, schools, contractors and others. Illinois owes about $6.4 billion -- $4.6 billion in unpaid bills and $1.8 billion in unpaid pension obligations, according to the state comptroller.
The tax hike is estimated to bring in $7 billion in annual revenue.
So the state must cut some programs to help close the gap. Quinn said Wednesday that "all unnecessary state spending will be eliminated."
Still, compared to the cuts being proposed in other states, Illinois' cuts are tame. Governors elsewhere want to slash billions from education and Medicaid - the two largest costs in most states - and make sharp reductions in the social safety net. Schools will likely close, public employees will lose their jobs and Medicaid recipients will see some of their benefits disappear.
Cuts will hit the elderly and the poor
Quinn's proposal calls for restricting the state's Community Care Program -- which keeps the elderly out of nursing homes -- to those who qualify for Medicaid. And he would eliminate programs designed to assist senior citizens and the disabled with paying for medications and taxes. Together, this would save $37 million.
The governor would also reduce Medicaid reimbursement rates by 6%, saving $552 million, as well as eliminate the state's prescription drug assistance program, which costs $107 million.
And while state funding for education will rise by $231 million, or 3.2%, the state still needs to make some cuts to make up for the loss of federal stimulus funding. It will trim $95 million for school transportation and eliminate $14 million in state subsidies for the Regional Office of Education. Quinn also wants to consolidate some of Illinois' 868 school districts, which will eventually save $100 million, he said.
Quinn has long promised to restore order to the state's finances after decades of turmoil. It's necessary for Illinois' economic recovery, he said Wednesday.
"Budget stability is crucial for the success of businesses, families and the state of Illinois," Quinn said. "It is how we will lead Illinois citizens to economic prosperity and maintain our role as a global economic powerhouse."
Experts, however, say Quinn needs to slash spending in Illinois.
"We need to have more, deeper spending cuts," said Robert Rich, director of the University of Illinois Institute of Government and Public Affairs.
If lawmakers don't approve the additional borrowing, the budget will be $5.5 billion out of balance, said John Tillman, chief executive officer of the Illinois Policy Institute, a non-partisan, free-market think tank.
"By borrowing, he's inflating his ability to spend," said Tillman of the governor.