Connecticut governor proposes sweeping tax hikes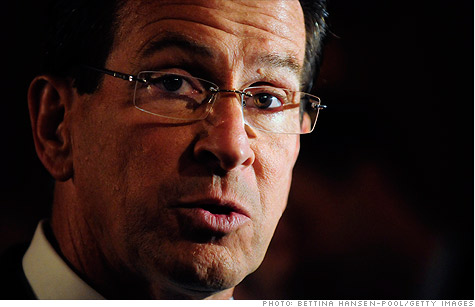 NEW YORK (CNNMoney) -- Facing an enormous budget shortfall, Connecticut's governor is proposing hiking taxes on everything from incomes to cigarettes to pedicures.
In his fiscal 2012 budget released Wednesday, Gov. Dannel P. Malloy proposed increasing state income and sales tax by $1.5 billion.
"Right now, we're in pretty tough shape. We're staring down the barrel of a deficit of over $3.2 billion dollars," he said. "At 20% of revenue, this places us among the hardest-pressed states."
The general sales tax rate would increase to 6.25%, up from 6%, raising an additional $461 million. And taxes would be levied on a host of services like car washes, manicures, haircuts, cosmetic surgery and non-prescription drugs.
Existing taxes on alcohol, tobacco and gasoline would also increase. Cigarette smokers will pay $3.40 per pack in tax, up 40 cents from last year, and drivers will pay a tax of 28 cents per gallon, up 3 cents from the prior rate.
And a sales tax exemption on clothing under $50 would be removed.
Homeowners would also lose a $500 property tax credit.
Of the new $1.5 billion in tax hikes, 81% will be paid by individuals and 19% by businesses.
"Asking virtually everyone to share a slightly higher tax burden is the only way we can ensure that no one group of people bears a much higher burden," Malloy said.
State income taxes will become more progressive, changing from three to five tax brackets and increasing rates on the richest Connecticut taxpayers.
Overall, 38% of the tax package will be paid by taxpayers making more than $250,000, said Benjamin Barnes, secretary of the Office of Policy and Management, briefing reporters Wednesday.
The highest bracket -- which includes individuals making more than $500,000 or couples making at least $1 million -- will rise to 6.7% from 6.5%.
The state's richest residents are among the highest taxed in the country. Connecticut is the third richest state in America, in terms of median income.
Malloy's budget proposal comes as many other governors are pledging to avoid tax increases or even considering tax cuts to stimulate their local economies. Since the recession, state tax revenues have been down as the country still struggles with high unemployment and falling home values.
As many state legislators and governors were up for re-election in November, they took a break from proposing unpopular tax hikes.
States increased taxes by only $4 billion in fiscal 2010, after raising them by $28 billion the year before, according to the National Conference of State Legislatures.
But some experts say we could be seeing a trend back to tax hikes.
"It's certainly not uncommon for states faced with severe economic problems to want to take up an approach that isn't just cutting, cutting, cutting," said Nick Johnson, vice president for state fiscal policy at the Center on Budget and Policy Priorities.
Illinois was the first to pass an income tax hike this year.
Slashing spending
A newly elected Democrat, Malloy is also proposing significant cuts in state spending, while trying to preserve most of the state's social safety net programs and essential services.
His budget includes $1.76 billion in spending cuts by consolidating some state agencies and reducing some state services, without significantly reducing funding for social safety nets like Medicaid.
While some state governors -- like New York's Gov. Andrew Cuomo -- are targeting schools, Malloy wants to increase education spending by $50 million in fiscal 2012.
The budget is also calling for $2 billion in concessions from state employee unions over the next two years.
Meanwhile, the state wants to avoid increasing local property taxes.
"We believe local property tax is the most onerous tax, and one of the most socially damaging tax of all the ones in the state," Barnes said.
The budget must now move on to the state legislature for approval, where it will face fierce opposition from Republicans who oppose tax hikes.
"How would you explain this proposal to an average taxpayer making about $60,000 a year?" House Republican Leader Larry Cafero asked reporters Wednesday.
"We are supposed to tell them their income tax is going up? That the $500 property tax credit they took on their home is now gone? That they will pay more to fill up their cars with gasoline?"
While Malloy realizes his proposals will be unpopular, he urged his state to unify under the spirit of "shared sacrifice."