Moore's law: Life for Intel, death for Cisco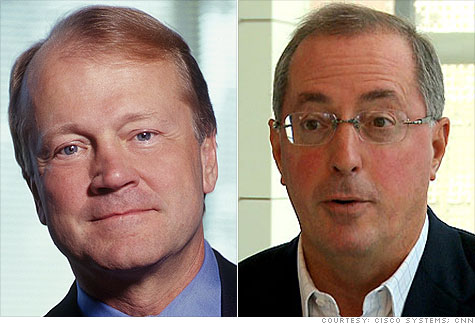 BARCELONA, Spain (CNNMoney) -- What Intel CEO Paul Otellini said would rejuvenate his company, Cisco CEO John Chambers thinks could kill everything in its path.
At the Mobile World Congress in Barcelona on Wednesday, Otellini and Chambers offered dueling keynote addresses on the future of mobile devices.
Both talked about Moore's law, the 1965 paper by Intel co-founder Gordon Moore, which observed a trend that has held true for more than five decades: Microchip manufacturers can double the number of components on a piece of silicon every two years.
"Moore's law is as relevant in world of ultra-mobile devices as it has been with PCs and mainframes in last few decades," Otellini said. "Smartphones will change again dramatically in the next couple years, and Moore's law is what will drive this."
Intel (INTC, Fortune 500) has struggled to get its chips into mobile devices, but a slew of faster and more powerful tablets and smartphones are providing a new opportunity for the company to out-innovate the competition. It's already starting to pay off: several of the new mobile devices unveiled at Mobile World Congress will carry Intel's new Atom chips.
But one man's treasure is another man's trash.
"Guess what? Moore's law won't save us," said Cisco's Chambers. "That means doubling price performance every two years. That won't cut it this time."
Chambers said that Cisco's wireless partners -- and, by association, Cisco (CSCO, Fortune 500) -- are experiencing a critical problem: As Moore's law allows manufacturers to pump out smartphones that are better, faster and more ubiquitous, customers are demanding more and more data for lower prices.
As a result, average revenue per mobile user has decreased an average of 42% over the past five years, while data traffic has grown by a factor of about 1,000. Revenues are forecast to to be flat over the next five years -- while the data surge grows by a factor of another 30 times current rates.
But Chambers, also offered up solution: video.
By providing an immersive mobile video experience, Cisco and its wireless partners can drive innovation forward to the point where it can be monetized, he thinks.
"As long as people can be more productive and have more fun, people will pay for it," he said.
Cisco's CEO envisioned a not-too-distant future where 80% to 90% of mobile applications feature video in a deeply integrated way.
"You'll see a world where you'll have unlimited content coming at you," Chambers said. "Video of the future will not only reinvent TV, it will reinvent the Internet and social networking, as long as it is enabled by the service providers."
Until that happens, Chambers said, even Intel's rosy outlook is threatened.
"If we don't solve these problems, all of our businesses will be limited," he said, referring to other keynote presenters, including Otellini's Intel and Carol Bartz's Yahoo (YHOO, Fortune 500).