Yahoo unveils personalized magazine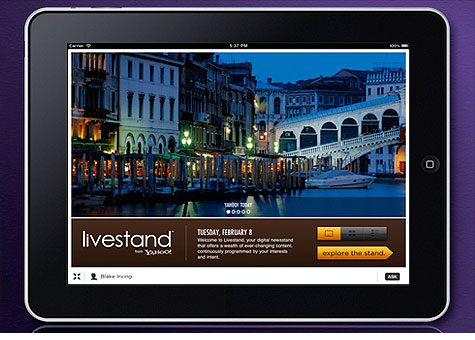 BARCELONA, Spain (CNNMoney) -- Yahoo CEO Carol Bartz on Wednesday unveiled Livestand, a magazine platform for publishers to deliver personalized content on a wide array of platforms, including the iPad.
During a keynote address at the Mobile World Congress in Barcelona, Bartz demonstrated the new platform, which she labeled "content in context." The application allows users to digest articles and advertisements that are relevant to them, based on their search and viewing history.
"Publishers want to know how to connect to a massive audience," said Bartz. "The way to do it is through the science of machine learning, which can deliver personalized content. Livestand offers each and every user a chance to get more personalized information."
By learning a user's preferences over time, each subscriber will receive a different version of the same magazines. For instance, if John the CEO and Jane the tech geek both subscribe to Fortune, John will likely see more stories about business strategy first and Jane will get more technology articles.
Bartz didn't announce any publishing partners, and she had nothing to say about a timeframe for when Livestand will launch.
The demonstration revealed a relatively easy to use application. The app opens to a library of content. Once a user selects a magazine, a page appears with a large article on the top and four smaller pieces of content on the bottom that are relevant to your location. Users can scroll through articles horizontally with a swipe.
Livestand features social connectivity as well, with the ability to comment on articles and share stories with friends on social networks. The application also has the ability to host dynamic in-app advertisements, including a Hewlett-Packard (HPQ, Fortune 500) ad that appears to fold up the magazine's page into a paper airplane, which can be flown around by the user by tilting the iPad from side to side.
Though it was demonstrated on an Apple (AAPL, Fortune 500) iPad and it will come to tablets first, Bartz said the platform "won't be limited by screen size." A video showed the application running on a tablet, a laptop, a television and a smartphone.
Bartz argued that publishers are experiencing difficulties cutting through the noise of the Internet and can't always get their content to users who would find it interesting.
That noise is growing too: Yahoo (YHOO, Fortune 500) said it adds 50 terabytes of data every day to its servers. To put that in context, the Library of Congress holds 200 terabytes of data, meaning Yahoo adds two new Library-of-Congress-sized pools of information every week.
Of course, publishers' problems go beyond just finding eyeballs, and it's worth noting that Yahoo has certainly had its share of challenges as well. The business model of digital publishing also remains questionable, particularly on the iPad.
The solution, Bartz argued, is personalization. Click-through rates on Yahoo pages doubled when users tailored the site's settings to their own interests, she said.
"Livestand will allow publishers to publish once and run their content on any device with extreme personalization," said Bartz.