Bulls on parade. Is rally getting ridiculous?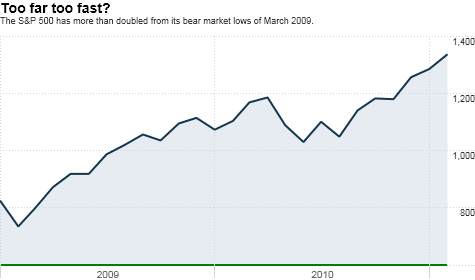 NEW YORK (CNNMoney) -- Double, double toil and trouble? No, the witches in Macbeth were not referring to the fastest 100% move for the S&P 500 in history. But they might as well be.
The market rally which began in earnest in March 2009 is now starting to look just a little bit frothy. Investors are piling into stocks of virtually all shapes and sizes.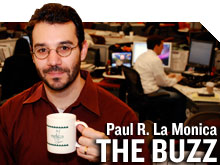 The S&P 500 is already up more than 6% this year. But so is the Russell 2000, one of the most widely watched barometers of small cap stocks. However, a couple of sectors are noticeably lagging during this year's stock surge.
Utilities, consumer staples and telecom stocks have all underperformed the broader market this year. That tells us a couple of things.
For one, it's a sign that investors are truly willing to embrace risk again. Why buy a stodgy dividend-paying company like Coca-Cola (KO, Fortune 500) or AT&T (T, Fortune 500) when tech stocks like JDS Uniphase (JDSU) and Netflix (NFLX) seem to go up almost every day?
Of course, that's short-sighted thinking. Any smart investor would be wise to have a well-diversified portfolio, including those boring utilities and other safe haven stocks.
But the rally in techs -- as well as energy, materials and retailers -- also may be a sign that investors honestly do believe the economy is getting better.
"We are well on our way in terms of a recovery," said Steve Blitz, senior economist for ITG in New York City. "The economy is in the process of shifting from a decade focused on housing and finance to one focusing on real goods like tech, agriculture and commodities."
In that respect, investors are doing exactly what they should be doing at this time of the cycle, shunning stability in favor of more exciting growth opportunities.
Consumers are spending again. Whether that continues for the long haul is up for debate. But it's understandable why investors may be trying to capitalize on this trend now.
"Improved holiday sales for many retailers convinced a lot of people that the recovery is for real," said Milton Ezrati, senior economist and market strategist with Lord Abbett, an investment firm in Jersey City, N.J. "There is more life to the market. People moving into these stocks now are not getting in too late."
Kent Gasaway, a portfolio manager with the Buffalo Funds in Kansas City, is also betting on the notion that consumers will spend more liberally again. Two of his top stock holdings are restaurant chains Panera Bread (PNRA) and Chipotle Mexican Grill (CMG), both of which recently reported stellar fourth quarter results.
Gasaway thinks investors would be making a mistake to conclude that the market is due for a major pullback just because it's rallied so sharply from its lows of two years ago.
Earnings, for the most part, are solid. Many companies enjoy the luxury of large cash positions and very little debt. And merger activity is picking up again.
"As long as I've been in business, this is the strongest I've seen Corporate America," Gasaway said. "The market just feels like it wants to go up."
Of course, momentum can change on a dime. But Gasaway makes a good point.
The events in Egypt did little to rattle investors even though the turmoil there clearly could have been viewed as a convenient excuse to sell stocks en masse.
Investors are even brushing off some earnings disappointments from so-called bellwether companies.
Cisco Systems (CSCO, Fortune 500) got killed last week after the company issued relatively weak guidance. But tech stocks finished that day only slightly lower. The fact that investors are able to quickly discern that some bad news may be company specific and not a reason to dump the entire market is encouraging.
Consider also that emerging markets stocks are getting hit hard this year. Investors are pulling out money from funds focusing on places like China, India and Brazil and plowing that back into stock funds with a heavier emphasis on the U.S. and Europe.
If investors truly were so exuberant and addicted to risk, wouldn't they be more interested in a rapidly growing economy like Russia than the PIIGS of Europe? So the rally in the U.S. and Europe may not be as "irrationally exuberant" as you might think.
Ezrati said that it's important to realize that stocks are going up in pace with expected earnings growth. For that reason, he said valuations are still reasonable.
But here's the problem. Expectations are only going to grow higher (and become more difficult to meet) the longer that stocks keep climbing.
Investors may be losing sight of the fact that the economy, while clearly better than two years ago, is not completely healthy just yet.
Ezrati said he's bullish long-term on the market and economy but conceded that a short-term correction may be necessary since investors have gotten too enthusiastic about this year. Blitz agreed.
"For stocks broadly to go higher from here you have to believe the economy has to accelerate sharply," he said. "But this recovery is a slow process. Investors may now be minimizing the potential risks."
-- The opinions expressed in this commentary are solely those of Paul R. La Monica. Other than Time Warner, the parent of CNNMoney, and Abbott Laboratories, La Monica does not own positions in any individual stocks.