Emerging markets: $13 billion exodus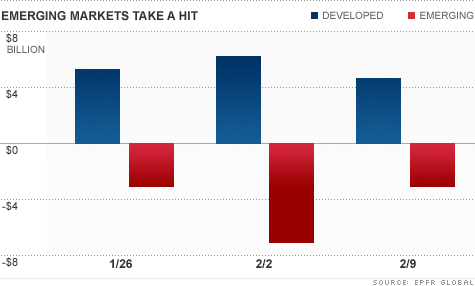 NEW YORK (CNNMoney) -- In a sharp reversal of last year's trend, investors have been pulling money out of emerging market funds and piling into large-cap stocks in more developed economies.
Investors have shifted more than $13 billion out of emerging market funds in the last three weeks alone, according to EPFR Global, which tracks fund flows and asset allocation data for financial institutions around the world.
That includes $7 billion in the week ended Feb. 3, the biggest weekly outflow in three years. The money is flowing out of equity funds focused on countries such as Brazil, Russia, India and China.
While the pace of outflows slowed last week, a total of $6.5 billion has come out of these funds so far this year.
The outflows are notable because investors spent most of 2010 chasing returns in emerging economies, which have recovered much faster from the global recession than developed markets such as the United States and Europe.
Now, investors are worried that rapidly rising consumer prices in emerging markets will spur policymakers to take more drastic steps to fight inflation. That could hurt economic growth.
"You can't discount the fact that some large emerging nations have taken or are discussing steps to curb or cool down inflation," said Abraham Bailin, an exchange-traded fund analyst at Morningstar. "That can certainly provide a tempering affect on flows into those spaces."
On Tuesday, China's government said that country's consumer price index rose to 4.9% in January from 4.6% the month before. And last week, the People's Bank of China raised its key lending and deposit rate for the third time in four months.
In contrast, the outlook for developed economies is improving, with the price-to-earnings ratio for some big U.S. stocks at levels not seen in a decade, according to Brad Durham, managing director at EPFR Global.
"After such a strong run by emerging markets in 2010, investors are now finding more value in assets in developed markets," he said.
Last week marked the sixth consecutive week of inflows for developed market funds, which have seen a total inflow of $35.5 billion so far this year.
Durham said investors have been targeting assets that have underperformed the broader market, including shares of big blue-chip companies in the United States, Europe and Japan.
The inflows come as U.S. stocks continue to show resilience. The S&P 500 is up over 5% so far this year. According to a recent exclusive CNNMoney survey, investment strategists and money managers expect the S&P 500 to rise 11% in 2011, on average.
However, the recent outflows do not mean investors have completely lost their appetite for emerging markets.
"Investors should be able to extract high returns out of the expansion of global capitalism over the next decade," said Bruce Thompson, president Thompson Wealth Management in Concord, Mass. "But they should be prepared for corrections."
"Having said that," he continued. "I sincerely doubt many will be successful by jumping in and out of emerging markets funds, or trying to pick country winners."
There may also be some seasonal factors at work.
Many investors rebalance their portfolios at the beginning of the year to position themselves for the months ahead and lock in profits from the previous year.
"As investors start to reallocate, they're selling their winners and buying underperforming asset classes," said Durham.