Democrats urge Obama to tap oil reserve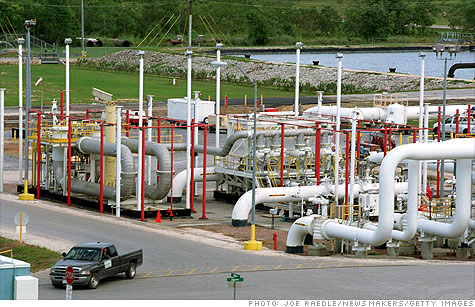 NEW YORK (CNNMoney) -- Three House Democrats urged President Obama Thursday to tap the nation's Strategic Petroleum Reserve as turmoil in the Middle East pushed oil prices over $100 a barrel.
In a letter to Obama, Massachusetts Representative Edward Markey, Connecticut Representative Rosa DeLauro, and Vermont's Peter Welch said soaring energy prices stemming from supply disruptions and rampant speculation in the oil markets are making it hard on American consumers and businesses.
"We therefore urge you to consider leveraging the SPR to respond to these supply disruptions and combat the rapid price escalations," the letter said.
The nation's strategic reserve, located man-made underground salt domes in Texas and Louisiana, holds 727 million barrels of oil. That's enough to cover U.S. oil imports for 85 days, or most of the oil exported from the Persian Gulf for 48 days.
The lawmakers said releasing oil from the SPR would send a strong message to oil traders that the American government is ready to act.
The White House did not immediately respond to an email seeking comment.
Oil prices have surged 14% since protests began in the Middle East two months ago, with most of that rise coming in just the last week.
Oil prices dropped 33% when President Bush tapped the SPR during the Gulf War in 1991. Prices also dropped 19 percent when Bill Clinton tapped it in 2000 and 9% when George W. Bush used it following Hurricane Katrina, the lawmakers pointed out in their letter.
Ray Carbone, president of the oil trading firm Paramont Options, said releasing oil from the SPR is one of the things traders were watching for, and that it could help calm oil prices, if only temporally.
So far, it appears that Libya is the only country to see its oil output cut as a result of the recent upheaval. Reports Wednesday said half of the country's 1.6 million-barrel a day oil production is shut in.
But traders fear the unrest could spread to other, larger oil producers in the Persian Gulf, which provide the world with about a fifth of the 87.5 million barrels it consumes daily.