Saudis may hike oil production to cover Libya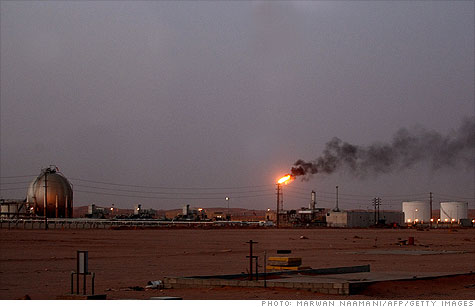 NEW YORK (CNNMoney) -- Markets around the world are wondering if oil-rich Saudi Arabia is serious about boosting its production to calm surging prices in the wake of continued upheaval in Libya.
The Saudis are said to be talking with refiners in Europe about what kind of oil they need to replace the lost Libyan production, according to the Financial Times, citing unnamed officials in the Saudi oil ministry.
If true, the move should calm oil markets, which have surged over the last couple of days.
Saudi Arabia holds the bulk of OPEC's spare oil capacity.
But earlier comments from Saudi Deputy Oil Minister Prince Abdelaziz bin Salman, cast doubt on whether the country really will take steps to keep prices in check.
On Monday, Prince Abdelaziz bin Salman said the situation in Libya did not yet warrant a production increase.
Oil in Libya was still flowing Monday, but oil markets were already nervous. U.S. crude prices surged more than 6% that day.
"Such blunt comments are atypical, especially...where the Saudis would usually wish to provide reassurance," Greg Priddy, an oil analyst at Eurasia Group, wrote in a research note Tuesday. The comments "hint at internal discord which could delay a Saudi output response to a disruption from Libya."
OPEC's official position has been that it stands at the ready to increase production in the event of a disruption.
The Saudi oil ministry could not be reached for comment.
Ray Carbone, president of Paramount Options, said traders are watching events around the Middle East unfold by the minute. News Thursday that the Saudis are moving to cover the shortfall helped send oil prices off their highs.
"It's definitely reassuring for the market," Carbone said from the NYMEX trading floor. But he also suggested that oil prices will quickly skyrocket if the protests hit Saudi Arabia.
"We will quickly revisit the high of $147 and probably surpass that by quite a bit," he said.
The desert kingdom currently produces 8.6 million barrels of oil a day, just behind the 10.1 million barrels a day produced in Russia and the 9.8 million barrels a day produced in the United States, according to the U.S. Energy Information Administration.
But almost all of Saudi Arabia's oil is for export. Plus, the country is thought to be able to produce upwards of 12 million barrels per day if need be, which is what makes it so important in world oil markets.
Libya, by contrast, was producing around 1.6 million barrels per day.
It's unclear just how much of that production is still flowing.
Several companies producing there confirmed Wednesday that production has been shut in, at least partially.
On Thursday, a spokeswoman for shipping company Hapag-Lyodd told CNNMoney that all the ports are closed and "nothing is coming in nor going out."