Stocks: Jobs take center stage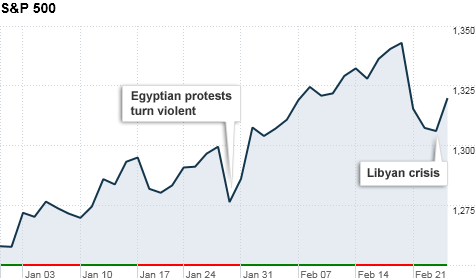 NEW YORK (CNNMoney) -- Investors will shift their focus this week to the U.S. job market, with the government's all-important monthly report due at the end of the week.
"We don't have the patience for another bad report," said Paul Zemsky, head of asset allocation at ING Investment Management. "Everywhere else you look in the labor market - consumer confidence, initial jobless claims - things are looking up. But we need to see the improvement actual jobs report."
February's jobs report is expected to carry more weight than January. Several economists dismissed that report as a statistical fluke because of the snowstorms that slammed much of the nation. In January, the economy added a paltry 36,000 jobs, falling far short of expectations.
Meanwhile, if Libya's political crisis worsens or spreads, stocks could be in for a wild ride.
"Libya is the wildcard," said Zemsky. "If violence in oil producing countries continues it's going to easily bring more fear into the stock and oil markets."
Oil prices spiked 9% last week, as the political revolt in Libya hit the nation's oil exports.
Also out this week are two U.S. manufacturing reports. The Institute for Supply Management puts out its manufacturing survey on Tuesday and the Chicago purchasing managers index will be out Monday.
"Manufacturing needs to continue to lead us out of the recession," said Marc Pado, chief market strategist with Cantor Fitzgerald.
Wall Street took it on the chin last week following a combination of the escalating turmoil in Libya and rapid-rising oil prices. Nearly 300 points were sliced off the Dow in the span of three sessions.
Stocks had their worst week since mid-November: the S&P 500 (SPX) lost 1.7%, the Dow Jones industrial average (INDU) fell 2.1% and the Nasdaq Composite (COMP) lost 1.9%.
On the Docket
Monday: Investors will get January personal income and spending figures from the Commerce Department at 8:30 a.m. ET. Economists are looking for personal incomes to rise 0.3% in January while the personal spending figure is forecast to increase at a slightly quicker 0.4%.
The Chicago purchasing managers index is due out at 9:45 a.m. ET. It's expected to edge down to 67.5 from last month's 68.8.
Rounding out Monday's docket is a report on pending home sales from the National Association of Realtors, due out at 10 a.m. ET.
Online retailer Overstock.com (OSTK) will report its earnings before the bell while auction house Sotheby's (BID) will report after the closing bell.
Tuesday: The Institute for Supply Management will release its manufacturing index at 10 a.m. ET. It's expected to fall slightly to 60.5.
Outside of the economic data, pizza chain Domino's (DPZ) is expected to earn profit of 40 cents a share before the bell, and the major auto makers will release their February sales figures starting at around 11 a.m. ET.
Wednesday: Several retailers will post their results before the bell, including Costco (COST, Fortune 500), BJ's Wholesale (BJ, Fortune 500) and office supply chain Staples (SPLS, Fortune 500). After the bell, investors will get PetSmart's (PETM, Fortune 500) results.
Investors will also get the first of three jobs-related economic reports on Wednesday. The ADP private-sector jobs report will be out at 8:15 a.m. ET. The report is often used to predict Friday's more-important Labor Department jobs report.
Economists are looking for the ADP report to show that private businesses hired 163,000 new workers last month, down from 187,000 fresh workers in January.
Thursday: Ketchup maker H.J. Heinz (HJZ) will report its earnings before the bell, along with Del Monte (DLM) foods.
For data, investors will get weekly initial jobless claims from the Labor Department along with the Institute for Supply Management's service industry report.
Economists expect initial claims to rise to 400,000 while the ISM services index is expected to fall to 59 from last month's reading of 59.4.
Friday: February's job report at 8:30 a.m. ET will dominate trading and news headlines throughout the day. Wall Street is looking for the 180,000 jobs to have been added in February with the unemployment rate rising to 9.1%.