Stocks: Bull market has room to grow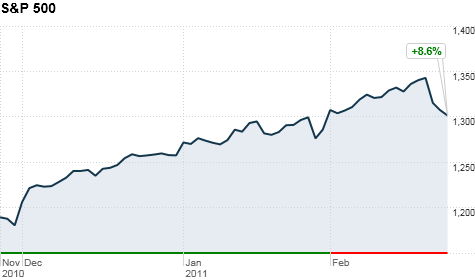 NEW YORK (CNNMoney) -- Despite this week's drubbing, the bull market still has room to grow, some analysts think.
Stocks have almost doubled from their March 2009 lows, prompting some experts to speculate about whether we're in for a crash landing.
But analysts say it's not time to panic just yet. The money that flowed out of the markets over the past three years is just starting to make its way back in.
"Looking at the bigger picture, there is a lot of room for this rally to continue, and any pullbacks will be small and contained," said Ryan Detrick, senior technical strategist at Schaeffer's Investment Research.
The S&P 500 is still about 20% off its October 2007 all-time high of 1,565.
It's not all champagne and roses. Some say this bull run is largely due to the Federal Reserve's easy monetary policy, and once the central bank decides to unwind its support, the market will unravel.
But that's probably a ways off.
"As long as the Fed keeps printing money, stocks will go higher on that momentum," said Joseph Saluzzi, co-head of equity trading at Themis Trading. "But there is going to be a point when the momentum will break. We don't know when it will happen, but it will be ugly."
On Thursday, stocks rebounded from afternoon lows and finished with small losses as oil prices retreated from two-year highs above $100 a barrel. The Dow Jones industrial average (INDU) finished 37 points lower, or 0.3%, and the S&P 500 (SPX) slipped 1 point, or 0.1%.
The recent spike in crude prices above $100 a barrel has investors "on the defensive," said Scott Marcoullier, chief technical market strategist at Wells Fargo Advisors. The market's weakness follows two days of steep losses.
Oil for April delivery hovered just below $100 a barrel, falling 82 cents, or 0.8%, to settle at $97.28 on Thursday, after earlier hitting $103.41 a barrel.
Meanwhile, the Nasdaq (COMP) managed to gain 15 points, or 0.6%, thanks in part to a 9% jump in shares of Priceline.com (PCLN). The online travel-booking service reported a 73% jump in fourth quarter profit after the market close on Wednesday.
Economy: Weekly initial jobless claims came in lower than expected.
The Census Department's report on durable goods orders matched expectations. The government reported that orders rose 2.7% in January, up from a revised 2.5% in December.
The Commerce Department reported that new home sales declined more-than-expected in January to an annual rate of 284,000.
Companies:Shares of Sears Holdings (SHLD, Fortune 500) dropped 6% after the company reported a 13% drop in profit and as sales declined at its namesake retail stores. The stock was among the biggest decliners on the S&P 500 and the Nasdaq. Sears also named Lou D'Ambrosio as CEO and president, succeeding Bruce Johnson, who had been interim CEO for three years.
General Motors Co. (GM) shares slumped 5% after the automaker reported an annual profit of $4.7 billion in 2010, its first annual profit since 2004.
Shares of Target (TGT, Fortune 500) increased 3.5% after the discount retailer reported that its quarterly earnings jumped more than 10%.
American International Group (AIG, Fortune 500) will report after the closing bell, and is expected to post a massive loss.
World markets: European stocks closed lower. Britain's FTSE 100 and France's CAC 40 both slipped about 0.1%, and the DAX in Germany tumbled 0.9%.
Asian markets ended the session mixed. The Shanghai Composite rose 0.6%, while the Hang Seng in Hong Kong dipped 1.3% and Japan's Nikkei fell 1.2%.
Currencies and Bonds: The dollar was lower against the euro and the Japanese yen, but gained slightly against the British pound.
The price on the benchmark 10-year U.S. Treasury rose, pushing the yield down to 3.42% from 3.45% late Wednesday.