Ford's airbag recall could blow up in its face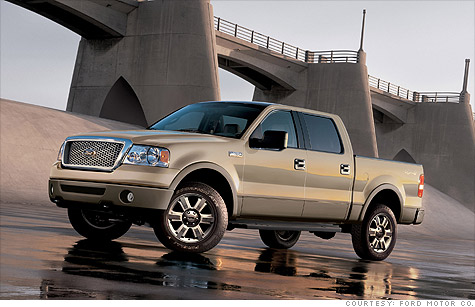 NEW YORK (CNNMoney) -- When the National Highway Traffic Safety Administration recently asked Ford to recall 1.3 million trucks over an airbag problem, Ford answered with a plan of its own. It only recalled a fraction of what the safety agency asked for.
"Ford is playing a risky game," said Gene Grabowski, manager of the crisis and litigation practice at Levick Strategic Communications.
While Ford says its plan more than meets the demands of customer safety, NHTSA says it is reviewing that plan and will decide whether it's adequate. NHTSA has the power to demand a larger recall, a move that would be embarrassing for Ford.
As if to provide contrast, the day after Ford's announcement, Toyota announced its own response to a huge NHTSA recall request. Toyota recalled 2.2 million cars for problems that could cause gas pedals to stick. The recall was exactly what NHTSA had asked for.
"The history of how each of these manufacturers got to this point certainly drove the decisions each of them has made," said Mike Rozembajgier, vice-president of the recall consulting firm ExpertRecall.
For its part, Toyota has already been through the worst sort of public relations hell any company can imagine. And it had been repeatedly fined by NHTSA for not recalling cars fast enough. About the only thing it could have done to make things worse would have been quibbling with regulators over another safety issue.
Ford, on other hand, is basking in the glow of positive product reviews, increased sales and back-slaps for not having taken government money. Ford has goodwill to spare.
"I think Ford is flexing its strength here a little bit," said Scott Painter, chief executive of the automotive Web site Truecar.com.
One thing that experts agree on is that the two automakers' differing responses don't reflect differing commitments to safety. Both automakers realize they have to make safe cars.
"Ford is doing what any automaker should do and saying 'Safety has to be balanced with reason," said Painter.
In other words, Ford wants its cars to be safe but it's not willing to waste money needlessly recalling millions of vehicles.
When the airbags in Ford trucks have gone off accidentally, it happened a few seconds after the truck starts. Usually drivers haven't even had a chance to drive away. So far, it's happened at least 269 times, by NHTSA's count, a tiny number compared to the millions of F-150 trucks on the road, and the only injury was to a startled man who jumped out of the truck.
The events have been preceded by a dashboard warning light that comes on days before telling the driver the airbag needs to be checked.
Ford could be pushing its luck by not doing NHTSA's bidding, some say.
Official documents show that NHTSA's engineers think Ford has downplayed the problem.
Ford undercounted the occurrences, NHTSA says -- a charge Ford disputes --and some airbags have gone off as trucks were being driven out of parking spaces, not a good time to smack a driver in the face with a bunch of white cloth.
The whole debate between Ford and NHTSA is available to the public through NHTSA's Web site. Now more than ever, the public through blogs and social media, has tremendous power to hurt the automaker.
"Anybody with an Internet connection could, within the space of an hour or two, create huge problems for Ford," Grabowski said.
Ford says it doesn't even consider public relations when making these sorts of decisions.
"When we're looking into a potential safety matter, our only focus is on addressing the safety issues," Ford spokesman Wes Sherwood said.
All that matters, Painter said, is that Ford shows that its executives and engineers are genuinely concerned about safety even if they disagree with NHTSA.
"So long as Ford deals with this recall in a very transparent and up-front manner and is true to their judgment, then I don't think they have anything to worry about," he said.
Besides, Ford spokesman said, there's a big long-term downside to issuing unnecessary recalls: many people ignore recall notices.
"We want people to respond to recalls when we issue them," he said.