Oil surges again, tops $99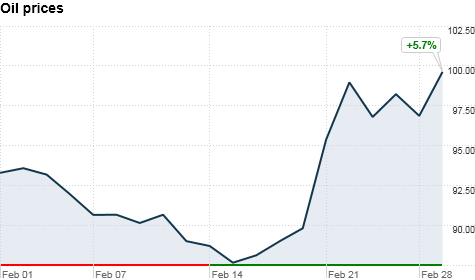 NEW YORK (CNNMoney) -- Oil prices climbed Tuesday as the volatile situation in Libya continued to fuel worries about wider unrest across the Middle East.
The benchmark U.S. oil contract, West Texas Intermediate for April delivery, surged $2.66, or 2.7%, to settle at $99.63 a barrel. The contract rose to a high of $99.77 a barrel earlier in the session.
In electronic trading, crude prices topped $100 barrel again late Tuesday afternoon, after jumping above that level last week for the first time since 2008.
Brent crude, the main European contract, was up $3.25 to $115.19 a barrel.
The oil market has been on edge since anti-government protests in Libya devolved into violent conflict last week, with Moammar Gadhafi clinging to power in the North African nation's capitol, Tripoli.
Libya is the first oil-exporting nation to be embroiled in the political upheaval that toppled regimes this year in Egypt and Tunisia. But traders are more worried about growing conflict in the Middle East, following protests in Yemen, Bahrain and Oman.
Oil prices averaged just over $90 a barrel last month, compared with $76.45 a barrel in February 2010.
"February 2011 seemed to be one of the most unpredictable and volatile months in a long time, based on ongoing tensions across the Middle East and North Africa," said Myrto Sokou, an energy analyst at Sucden Financial, in a research report.
Meanwhile, oil prices were also supported by a report that showed U.S. manufacturing activity rose in February to the highest level in nearly seven years.
The recent spike in oil prices has driven up gas prices, raising concerns that a sustained period of high prices at the pump could hurt the still fragile economy.
Gas prices jumped 20 cents in the last eight days of February, but prices were up only moderately Tuesday in a daily survey by motorist group AAA.