Government avoids shutdown; hard part still to come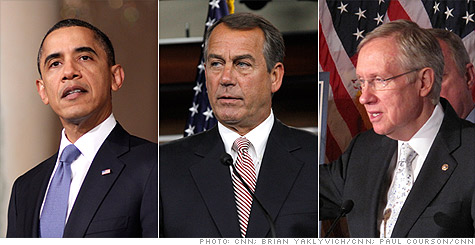 NEW YORK (CNNMoney) -- Congress passed a spending bill Wednesday that will keep the government open for another two weeks. That was the easy part.
What comes next will be much harder.
Republicans were able to include $4 billion in cuts in the two-week bill, something Democrats in the Senate agreed to without too much fuss. (CNN: Senate OKs measure)
But that $4 billion in cuts was the lowest of the low-hanging fruit. House Republicans now want to return to their plan that would cut roughly $60 billion from the federal budget over the remaining seven months of the fiscal year.
And that plan contains things Democrats -- who control the Senate and the White House -- will never agree to.
That plan would eliminate funding for President Obama's signature policy victories, including the health care and Wall Street reform laws.
It would also block all federal funding for Planned Parenthood, bar any federal agency from spending money on implementing the new health care law, and limit the activities of the Environmental Protection Agency and public broadcasting.
Those cuts would help Republicans accomplish their political goals. But the GOP would also make some of the "tough choices" required when slashing the budget. Their plan contains cuts to federal and local law enforcement and a few choice Pentagon programs.
The cuts would result in less federal money trickling down into state and local government coffers, just as many states are facing severe budget shortfalls.
Add all that up, and you end up right back at square one for negotiations. Except now, Republicans will be looking for roughly $57 billion in cuts instead of $61 billion.
And the clock is already ticking, with a little more than two weeks for negotiating before a shutdown on March 18. That's exactly the situation the White House was hoping to avoid.
The administration made an eleventh hour bid on Wednesday to trade additional budget cuts for some medium-term stability, proposing a month-long funding extension with up to $8 billion in cuts.
The White House argued that a 30-day bill would reduce uncertainty, both within the government and the public at large, over an impending shutdown.
But that plan was rejected by House Republicans, who instead moved their two-week plan through to the Senate.
With the White House signaling a willingness to cut up to $8 billion, there is clearly some wiggle room for negotiation. But if Congress continues to pass two-week spending bills, more and more of what both parties agree on will be taken off the table.
House Republicans identified the $4 billion in cuts in Wednesday's bill by combing their budget plan and Obama's 2012 budget proposal for spots where they agreed.
There is certainly still some remaining overlap. But not enough to make a long-term deal that would be acceptable to Republicans.
Obama and House Republicans both want to reduce funding for a program that helps low-income people pay their energy bills during periods of extreme heat or cold.
Both would allocate less money for community services block grants, the Great Lakes Restoration Initiative, and the National Drug Intelligence Center.
Also on the chopping block are a slew of minor earmark-like programs.
That's a few billion more dollars. Here's the rub: At some point, Democrats -- especially the most liberal members of the House and Senate -- are just plain going to run out of programs they are willing to cut.