Regulators: Wall Street reform at risk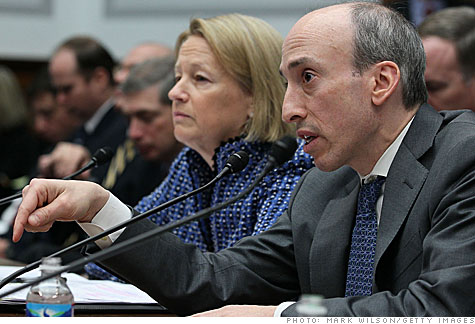 NEW YORK (CNNMoney) -- Congressional Republicans intent on big spending cuts are on a collision course with Wall Street's top regulators over a plan to slash millions from agency budgets.
Lawmakers are targeting the Commodity Futures Trading Commission and the Securities and Exchange Commission. The work of both agencies is set to balloon as the Dodd-Frank financial reform law is implemented.
The fight is expected to come to a head in the coming weeks.
The most recent comprehensive spending bill produced by House Republicans would chop the CFTC's funding by $56.8 million -- almost a third of the agency's entire budget -- over the next seven months.
Funding at the SEC would be cut by $25 million over the same time period.
Those proposals were met with resistance from Democrats. Lawmakers are now considering a two-week stop-gap measure that would keep the government running.
Agency heads are warning that big cuts would have severe consequences for market regulation.
CFTC Chairman Gary Gensler told Congress earlier this month that he would be forced to reduce his staff from 680 to below 440 if the cuts went through.
"We'd have to have significant curtailment of our staff and resources," Gensler said. "We would not be able to police ... or ensure transparent markets in futures or swaps."
Under Dodd-Frank, the CFTC is charged with regulating the murky, multi-trillion dollar derivatives market that includes over-the-counter products called credit default swaps.
In order to do that, they need more money to invest in sophisticated technologies needed to monitor the market, and the staff to make sense of the data.
The story is much the same at the SEC, which is attempting to ramp up its enforcement of Dodd-Frank.
"It [budget cuts] will have a very real effect on the SEC's ability, not just with respect to Dodd-Frank implementation, but also with respect to our core mission," SEC Chairman Mary Schapiro told Congress.
She said she wasn't sure whether cuts would force staff reductions or a pullback on technology investments. Either way, she said, the agency won't be able to go forward with "many of the rules that we're implementing as a result of the new law."
Republicans lawmakers argue that an overly-strict implementation of Dodd-Frank, and specifically the Volcker rule, would spark a mass exodus of clients from U.S. banks to their competitors abroad.
Many Republicans voted against Dodd-Frank last year and now view reducing funding at the CFTC and SEC as a way to slow its implementation.
For the agencies, the results of lower-than-optimal funding levels is already apparent. The agencies were supposed to get more money to implement Dodd-Frank this year, but because Congress has failed to pass a budget, they've been operating at least year's funding level.
Already, the SEC has delayed the creation of five key initiatives mandated by the Dodd-Frank, including a new office of women and minority inclusion and a whistle blower unit.
The SEC has also been forced to postpone depositions in some enforcement cases and has capped the number of expert witnesses it hires.
On Tuesday, Congress will start debate on a two-week spending bill that would keep the government running. That bill would keep funding for the SEC and CFTC at current levels.
But that just kicks the can down the road, and in another two weeks, Congress would have to pass another spending resolution, and SEC and CFTC funding might be back on the table.