Oil and gold: Rally won't last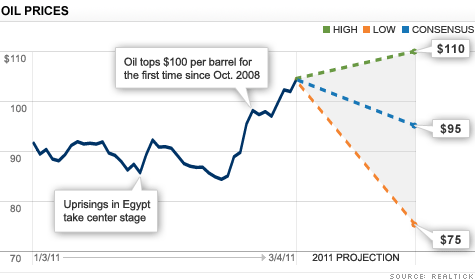 NEW YORK (CNNMoney) -- Oil above $100! Gold hitting new records! Don't fear the headlines. Most market experts think oil and gold prices will settle down as the unrest in North Africa and the Middle East region subsides.
In fact, a majority of investment strategists and money managers are leaving their year-end forecasts unchanged, according to an exclusive CNNMoney survey.
On average, experts expect gold and oil prices to edge up about 4% by the end of 2011. That would put oil at around $95 a barrel and gold just under $1,500 an ounce by the end of the year. Crude prices started the year around $91 a barrel, while gold was at $1,420.
Since the uprisings in Egypt at the end of January caught investors' attention, oil has rallied almost 25%, while gold prices have surged almost 10%.
"The upward pressure on oil is all related to the tension in the Middle East," said Timothy Ghriskey, chief investment officer at Solaris Asset Management. "While we think the issues won't resolve quickly, we should have more clarity by the end of the year, and that will relieve some of the upward pressure."
Like 80% of the 23 survey respondents, Ghriskey isn't changing his year-end target for crude oil. He is calling for oil to end 2011 at around $100 barrel, citing growth in global energy consumption.
Still, risks remain.
Bell Investment Advisors' Matt King is leaving his year-end forecast for oil unchanged at $95 per barrel. But he said prices could surge as high as $150 per barrel if the political instability spreads beyond Libya and disrupts oil production.
"Oil is a big unknown," King said. "Production isn't an issue now, but it could be six months from now if the revolution in Libya spreads to other oil-producing nations in the Middle East."
Meanwhile, gold prices have recently resumed their upward momentum, thanks to safe-haven buying. But experts aren't convinced the gains will continue, with nearly 90% of survey respondents saying the precious metal will lose some luster as turmoil in North Africa and the Middle East eases.
The handful of experts who did raise their forecasts for gold cited increased buying by consumers in Asia and the Chinese central bank, which is battling against increasing inflation in the country.