Oil prices ease on talk of OPEC boost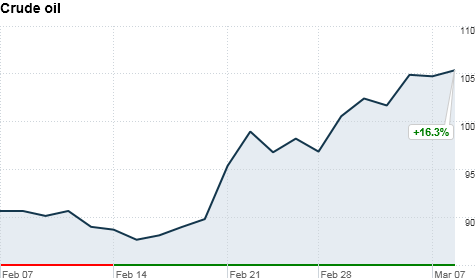 NEW YORK (CNNMoney) -- Oil prices eased Tuesday following reports that key producers are discussing the possibility of increasing output.
The Organization of the Petroleum Exporting Countries is "in consultations about a potential output increase," said Kuwait's oil minister, according to published reports.
But the minister, Sheikh Ahmad al-Abdullah al-Sabah, reportedly said that an official decision has not yet been made, and that Kuwait has not raised its output.
The benchmark U.S. oil contract, West Texas Intermediate, closed 42 cents lower at $105.02 a barrel for April delivery.
Despite Tuesday's weakness, many analysts expect oil prices to move higher in the months ahead.
Analysts at BofA Merrill Lynch Global Research said they now expect oil prices to average $122 a barrel in the second quarter of 2011, up from a previous estimate of $86 a barrel. Oil prices could briefly top $140 a barrel in the next three months, according to the BofA report.
Analysts surveyed by CNNMoney said they're sticking with their year-end forecasts. They expect the turmoil in North Africa and the Middle East to eventually subside, and lead to less volatility in the oil market.
In Europe, Brent crude slid $1.84 to $113.20 a barrel on Tuesday.
"Brent weakness can likely be traced to additional OPEC members increasing output," said Stephen Schork, an energy analyst, in his daily newsletter The Schork Report.
However, he added that the retreat "could signal weakness in consumer demand as domestic retail gasoline prices are now above the pivotal $3.50 psychological barrier."
The national average price for a gallon of regular gasoline rose to $3.517 on Tuesday, according to motorist group AAA. Gas prices, which follow crude prices, have risen for 14 days in a row.
Oil production in Libya, an OPEC member, has been curtailed by the ongoing violence between rebel forces and supporters of Moammar Gadhafi, the North African nation's long-time leader.
While some crude has shipped from Libyan ports recently, the conflict there has cut production by as much as 1 million barrels per day, according to estimates from the International Energy Agency.
Meanwhile, the U.S. ambassador to NATO said the organization has launched around-the-clock surveillance flights of Libya as it considers various options for dealing with escalating violence in the war-torn country.