Why you're paying more for groceries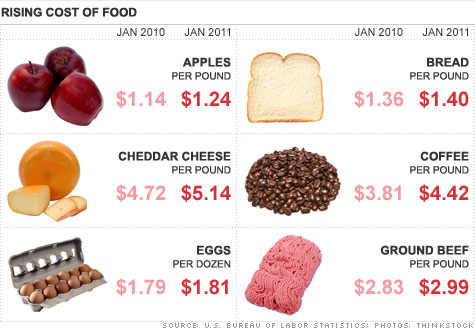 NEW YORK (CNNMoney) -- After holding steady for two years, food prices in the United States are rising once again, due to growing demand and tight supplies of wheat, corn and other key commodities.
That means American consumers are being hit with higher grocery bills at a time when gas prices are already starting to dent household budgets. On the bright side, economists say the recent spike in fuel prices isn't yet translating into higher costs at the supermarket.
For the moment, food producers and retailers have been absorbing higher energy costs and have pledged not to pass them on.
Still, according to the U.S. government's Consumer Price Index, food prices in January rose 1.8% from the prior year, marking the fastest pace since 2009.
"We are already starting to see food inflation kick in," said Brian Todd, president of the Food Institute, a nonprofit research group in Elmwood Park, NJ.
A 16 oz. bag of potato chips, for example, sold for an average price of $4.79 nationwide, according to January CPI data. That's up 5 cents from the same month last year, and nearly $1.40 more than in 2001. Prices for bread, bacon, eggs and many other consumer staples were also significantly higher.
Those increases can add up quickly for consumers already struggling with rising gas prices, high unemployment and stagnant wage growth. In 2008, the average taxpayer earned just $33,000 a year, which is actually down from twenty years ago.
Food prices are currently being driven higher by spiraling costs for basic agricultural goods, which have been impacted by bad weather in many parts of the world. Tight supplies of grains have in turn pushed up prices for the livestock that eat them, resulting in higher prices for beef and pork.
In addition, growing prosperity in China, India and other developing economies has led to increased demand for meat and other higher-end food items.
Overall, retail food prices are expected to rise between 3% and 4% this year, according to the U.S. Department of Agriculture. That would follow a more modest increase in 2010, when food prices rose 1.5%, and a slight decrease in 2009, as the global recession took hold.
But the outlook for food inflation is still only slightly above the historical average of between 2% and 3%, said Ephraim Leibtag, an economist at the USDA's Economic Research Service.
The 2011 forecast is also below the 5.9% rise in food prices that occurred in 2008, when oil and gas prices surged to all-time highs.
"There are some similarities with 2008," this year, said Leibtag. "There's the potential for prices to rise over the year, but there's also time to readjust."