GM executive shuffle continues: CFO Liddell resigns, Treasurer Ammann promoted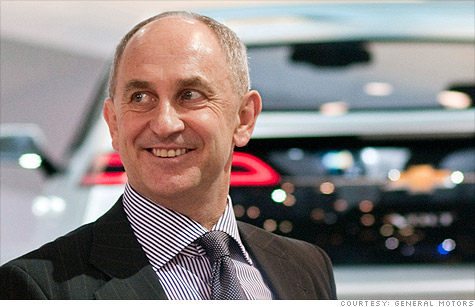 FORTUNE -- The management churn at General Motors Co. (GM) proceeds unabated with the resignation Thursday of Chris Liddell as chief financial officer after 14 months on the job.
Dan Akerson, GM chief executive officer, has been stirring his pot of executives since taking over last fall -- and he is the fourth GM CEO in less than two years. Last month GM got a new chief of product development, Mary Barra. Last week, GM's head of engine and transmission development, Jamie Hresko, resigned.
In a conference call with journalists, Liddell, 52, explained that he had achieved his goal of getting GM "back on its feet" financially. He also said he was "delighted" that Dan Ammann, 38, who joined GM as treasurer last April from Morgan Stanley, would be taking over for him.
Liddell said in the call that "there's no exact perfect time" to leave, that he "left great foundations in place" and that he has "no specific plans, a couple of ideas of things I'd like to do." Afterwards, a GM spokesman said Liddell was about to be married, which he said may have some bearing on his career.
In short, the reasons for Liddell's abrupt departure remain obscure, adding to uncertainty about GM's restructuring, corporate governance and whether management is sound enough to contend with fierce global competition in a period of rising, though relatively weak, demand for vehicles in the U.S.
"I would say the business is intact," said Akerson, "and we're not unhappy." GM filed for bankruptcy and was reorganized by the U.S. Treasury in mid-2009.
Akerson said Barra's promotion to head of product development while her predecessor was given the new post of chief technology officer "gives us the best of both worlds."
Akerson said Ammann -- like Liddell, a native of New Zealand -- "will pick up the baton and run forward." He called them "two of the most talented financial executives I know."
Flush with government financing, GM posted its first annual profit in six years for 2010, earning $4.7 billion -- an impressive turnaround from the $21 billion loss in 2009. GM has begun 2011 with a gain in U.S. market share -- albeit by granting the steepest discounts among the major carmakers.
The financial impact of GM's discounts on first-quarter financial results will be revealed within the next month or so. Investors already may already be worried about the durability of GM profits, on top of economic uncertainties surrounding the price of energy and Mideast turmoil.
GM shares opened down as much as 3.8% in the first two hours after the news of Liddell's resignation, more than the broader market. They have been especially weak for the past two weeks, dipping below the initial public offering price of $33 per share.
The U.S. government, still the biggest holder of GM stock, will be scrutinizing the value of its stock carefully. Surely the administration of President Barack Obama would prefer to be out of its investment by the time the next presidential campaign begins to heat up later this year.
As a long lead time business, with investments and vehicles designs coming to market as finished cars and trucks two to three years on, it may take another year or more to understand what toll the management changes at GM -- and any slowdowns -- may have actually taken.