Japan's disaster shocks oil market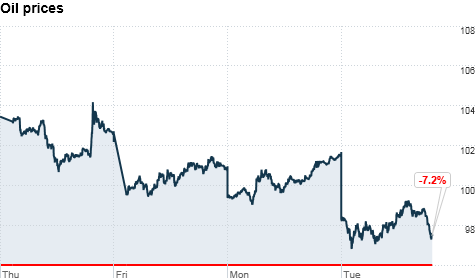 NEW YORK (CNNMoney) -- Oil prices had been on a tear before Friday. But then the earthquake and tsunami slammed Japan, throwing the oil industry's bullish momentum for a loop.
Crude prices had surged to nearly $107 a barrel on March 7, mainly fueled by regime-toppling instability in the Middle East and North Africa. But all that momentum was thrown out the window after the tsunami wiped out entire cities in Japan, killing thousands of citizens and damaging nuclear reactors.
The disaster -- which the Japanese prime minister has labeled the worst national crisis since the atomic bombings of World War II -- has unraveled the markets. The Nikkei plunged 10% on Tuesday, knocking down the Dow and dragging oil prices lower.
On Tuesday, U.S. crude for April delivery fell $4.01 per barrel, or nearly 4%, to settle at $97.18 a barrel. Since the disaster hit Japan last week, oil prices have plunged more than 5%.
To say that oil traders are shocked would be an understatement.
Tom Kloza, chief oil analyst for the Oil Price Information Service, said that hedge funds, commodity pools, ETFs, index funds and other investors had been aggressively betting that oil prices would continue to climb.
Now, said Kloza, those same funds are experiencing "the largest buying skew ever" as oil prices have sold off sharply due to the crisis in Japan. He said the selloff has created a record spread between current prices of around $97 a barrel and forward-looking bets, which had easily been above $100 a barrel.
Kloza described the drop in oil prices as "long overdue," saying traders' expectations were too high.
"The market was anticipating every possible imperfection that could drive prices higher," he said. "It was ignoring the various imperfections that could send prices lower."
But not all investors were using overly exuberant forecasts. A majority of money managers and investment strategists in a CNNMoney's pre-tsunami poll projected that oil prices would end the year at $95 a barrel.
So far, oil analysts remain reluctant to provide fresh forecasts in the wake of Japan's natural disaster.
The Federal Open Market Committee dealt with the specter of oil prices in its Tuesday statement.
"The recent increases in the prices of energy and other commodities are currently putting upward pressure on inflation," the FOMC said. "The Committee expects these effects to be transitory, but it will pay close attention to the evolution of inflation and inflation expectations."
Gas prices have moved in tandem with oil, at least for now. With the halt in oil's recent rise, the motorist group AAA reported on Tuesday that gas prices declined, snapping a 20-day streak of increases.
AAA said the U.S. average price for gas is $3.556, down 0.2 cents from Monday. The highest average prices are found in Hawaii, at $4.016 a gallon, with the lowest in Wyoming, at $3.277.