$105 oil: 'It's the perfect storm'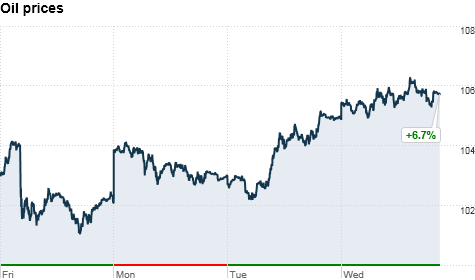 NEW YORK (CNNMoney) -- Tensions in the Middle East and Libya show no signs of abating. Japan is dealing with post-earthquake rebuilding and major nuclear issues. And the U.S. is entering prime driving season.
At the same time, crude prices have surged, crossing $106 a barrel - a level not seen since Sept. 26, 2008. Gas prices aren't faring much better. Many drivers are already paying $4 a gallon.
Oil traders are wondering what's next.
"It is truly the perfect storm right now," said James Cordier, president at Liberty Trading Group. "I've never seen anything like it -- the news just isn't stopping."
The benchmark U.S. contract, West Texas Intermediate, rose 78 cents, or 0.7%, to settle $105.75 a barrel for May delivery. Earlier, prices climbed as high as $106.34 a barrel. The May contract became the front-month contract on Wednesday.
"The next 90 days are the huge driving season for the U.S., which creates a major demand situation," Cordier said.
And crude is spiraling higher quickly. U.S. oil prices have surged more than 20% since mid-February, when pro-democracy movements reached Libya, Africa's third-largest oil producer.
But the nation contributes only about 2% of the 87.5 million barrels of oil the world consumes every day. So traders' concerns are more about whether the regional unrest will spread to other nations.
Pro-democracy protests have already forced out leaders in Tunisia and Egypt, and unrest has swept Yemen, Bahrain and Syria. Traders are worried about what happens to global supplies if the turmoil reaches oil-rich areas in the Persian Gulf.
Oil prices had retreated earlier this month. But they resumed rally-mode on Monday after the United States and its allies launched air attacks on Libya's defense systems over the weekend. The mission, called Operation Odyssey Dawn, continued Wednesday.
Meanwhile, there's also been some concern about whether Japan would need to import refined products. Many of the countries refineries were shut following the devastating earthquake and tsunami.
ExxonMobil said Wednesday that it had restarted all of its Japanese refineries for the first time since the March 11 earthquake so that crisis may be averted for now.
Supply report and gasoline: A report Wednesday morning from the Energy Information Administration said inventories of crude oil rose 2.1 million barrels last week. But gasoline stockpiles fell by 5.3 million barrels, much more than expected.
Meanwhile, the nationwide average price for a gallon of regular unleaded gasoline slipped 0.1 cent to $3.548 on Wednesday, according to the motorist group AAA. The most expensive gas is in Hawaii, at an average of $4.145 a gallon, while the cheapest is in Wyoming at $3.327.