RIM shares plunge on weak outlook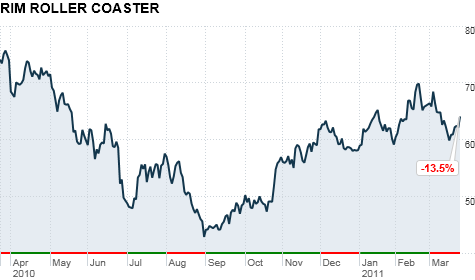 NEW YORK (CNNMoney) -- BlackBerry maker Research in Motion disappointed investors Thursday with revenue that rose 36% compared to last year but still fell short of expectations.
The company reported a profit of $984 million, or $1.78 per share, edging past the consensus estimate of analysts polled by Thomson Reuters. But its sales of $5.56 billion came in slightly short of forecasts.
RIM (RIMM) shares fell 12% in after-market trading thanks to the company's cautious guidance about its current quarter. Revenue is expected to be in the range of $5.2 billion to $5.6 billion, the company said.
The forecast reflects customers' shift toward RIM's lower-priced products, and RIM's rising sales, marketing and development expenses from its forthcoming push into the tablet market. RIM also warned about a risk of potential supply-chain disruption as a result of Japan's recent earthquake -- a problem plaguing the consumer electronics industry.
The company's closely watched PlayBook tablet will go on sale next month. With prices starting at $499, the new device will go head-to-head against Apple's iPad.
RIM says it's bullish about its prospects.
"As we enter fiscal 2012, RIM is in an excellent position," Jim Balsillie, RIM's co-CEO, said in a prepared statement. "We are extremely excited about our smartphone, tablet and platform roadmaps."
For its full 2011 fiscal year, which ended Feb. 26, RIM reported sales of $19.9 billion, up 33% from the previous year. Net income for the year was $3.4 billion, up 47%.

BlackBerry smartphone shipments for the year totaled 52.3 million, up 43% from the previous year.