Back in Black ... Berry. RIM lives!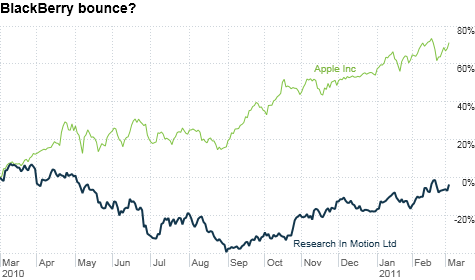 NEW YORK (CNNMoney) -- Coke and Pepsi. McDonald's and Burger King. Wal-Mart and Target. In many industries that cater to consumers, there's a clear number one and a strong number two.
In the still-nascent world of tablets, consumers seem to think that Apple -- with its iPad and recently unveiled iPad 2 -- is the beginning, middle and end of the market.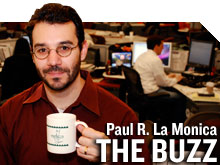 But investors appear to be betting that BlackBerry maker Research in Motion, whose PlayBook tablet is rumored to be hitting the market in early April, could wind up being the ying to Apple's yang.
Shares of RIM (RIMM) have actually outperformed Apple's this year, despite all the hype about the new iPad and the iPhone launch on the Verizon network. RIM has surged 18% this year, while Apple (AAPL, Fortune 500) shares are up about 11%.
In fact, RIM has soared more than 60% since hitting a 52-week low late last summer. At that time, many investors were growing worried that RIM could be the next Palm, which was forced to sell out to HP (HPQ, Fortune 500) for a mere fraction of what the company used to be worth.
Last August, RIM was suffering from tepid reviews for its Torch phone, which many hoped would be a legitimate competitor to the iPhone. The company had not yet announced its official plans for the PlayBook, prompting chatter that RIM would be left hopelessly behind in the tablet race.
But so much has changed in the past few months. Hopes are building that the PlayBook, like the BlackBerry, will make a big splash with large businesses.
"I still think Apple is going to own the overall tablet market, but RIM is a leading contender to own the corporate market," said Kris Thompson, an analyst with National Bank Financial in Toronto.
Thompson estimates that RIM will ship about 3.5 million PlayBooks this year -- and that 1.5 million will go to so-called enterprise customers.
Alkesh Shah, an analyst with Evercore Partners in New York, agreed that RIM has a good chance to take a healthy bite of the growing tablet-market pie.
RIM's acquisition of operating system QNX last year is a significant positive for the company, Shah said. He thinks it will transform RIM from a company that mainly makes e-mail enabled devices to one developing real smartphones.
"Messaging devices were successful up until Apple really created the Internet smartphone market with the iPhone," Shah said. "The QNX operating system on PlayBook, and ultimately on RIM's phones as well, will help the company complete the transition."
Another positive for RIM? It's not Nokia (NOK). The Finnish smartphone maker seems to have replaced RIM on Wall Street's "next Palm" list.
Nokia announced a partnership with Microsoft (MSFT, Fortune 500) earlier this year that has been almost universally panned. And Nokia has gone a long time without a device that has excited consumers in the United States.
But Peter Misek, an analyst with Jefferies & Co., points out that Nokia still does fairly well abroad. And that's where RIM steps in: Misek believes RIM is in the best position to capitalize overseas on Nokia's turmoil.
"Investors have this myopic view about the market in the U.S. But RIM has really been given a gift with Nokia," Misek said. "It can steal a lot of share in Europe and Latin America."
There are also rumors that RIM may open up some of its apps beyond the insular BlackBerry ecosystem. Tech blog Boy Genius Report hinted Thursday that RIM is working on a BlackBerry Messenger app for Android phones, and eventually for Apple's iOS.
Thompson said such a move would be very smart ... and long overdue.
"It's about time. There are plenty of competing apps to BB Messenger, but they don't do it as well," he said. "Expanding to other operating systems would be fantastic."
Of course, there's one big glaring risk facing RIM: The PlayBook could flop. It's got a smaller screen than the iPad, and there are scores of Android-enabled flooding the market that match most of the PlayBook's selling points.
But that and other risks may already be priced into the stock. Misek notes that even though many analysts are skeptical about RIM's strategy, their earnings estimates have risen sharply in the past few months.
RIM will report its latest quarterly results on March 24. Analysts expect a profit of $1.75 a share. Three months ago, the consensus estimate was for $1.61 a share.
The stock also trades at a dirt-cheap price of only 10 times earnings estimates for the current fiscal year, which ends in February 2012.
"There is more upside for the stock," Shah said.
He thinks that investors are making a big mistake if they assume that the market is only big enough for that little company in Cupertino, Calif.
"This is not a case of 'will Apple win' or 'will RIM win,'" he said. "Apple is great, but there is room for multiple vendors. Right now, the mobile market is getting bigger at a fast enough rate that many companies can benefit."
-- The opinions expressed in this commentary are solely those of Paul R. La Monica. Other than Time Warner, the parent of CNNMoney, and Abbott Laboratories, La Monica does not own positions in any individual stocks.