Geithner softens stance on yuan slightly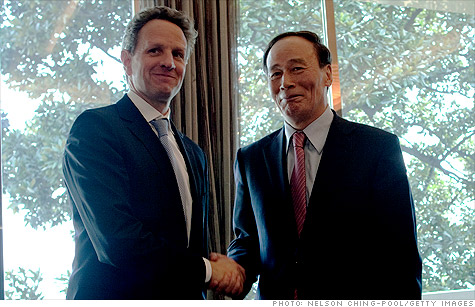 NEW YORK (CNNMoney) -- Treasury Secretary Tim Geithner once again criticized China for keeping its currency artificially low. But he also extended an olive branch that could allow China's yuan to become even more influential in global trade.
Speaking in China at a gathering of finance ministers from the Group of 20 economic powers Thursday, Geithner said that "weaknesses and inconsistencies" in global exchange rate policies are among the biggest challenges facing the international monetary system.
Geithner also said the G-20 should work to coordinate capital controls and take steps to limit global imbalances.
"Most major emerging economies now operate largely flexible exchange rate regimes, with very open capital accounts," he said, according to prepared remarks. "Some emerging markets run tightly managed exchange rate regimes with very extensive capital controls, though this is starting to change."
China has long been criticized by the United States for intervening in the currency market to depress the value of its currency, the yuan. This policy, critics say, gives Chinese exporters an unfair advantage and has created global trade imbalances.
For its part, China has warned that a stronger currency could hurt its economy and undermine social stability. In addition, China has expressed concern about its vast reserves of U.S. dollars and government bonds, saying the Federal Reserve has effectively undermined the dollar by keeping interest rates low.
A top Chinese economist warned Wednesday about the dangers of a dollar-centric system, saying the world has fallen into a "dollar trap."
While China has allowed the yuan to appreciate somewhat since last year, Geithner and others have said it remains "significantly" undervalued.
"This asymmetry in exchange rate policies creates a lot of tension," said Geithner.
In addition to artificially inflating the currencies of countries with flexible exchange rates, Geithner said aggressively managing exchange rates "intensifies inflation risk in those emerging economies with undervalued exchange rates."
China, one of the world's fastest growing economies, has been struggling to contain rising consumer prices. In January, China said its consumer price index jumped 4.9%, with food prices surging over 10% in the month.
Geithner said correcting the exchange rate problem would not require a treaty or the creation of a new institution.
"It can be achieved by national actions to follow through on the work we have already begun in the G-20 to promote more balanced growth and address excessive imbalances," he said. "It can be achieved by building a stronger set of international norms and standards that will hold for the future."
Geithner added that the United States would support changing the composition of a key basket of international currencies created and managed by the International Monetary Fund known as Special Drawing Rights.
The SDR represents potential claims on the currencies of IMF members and can be converted into whatever currency a borrower requires.
While not a tangible currency, some economists argue that SDRs could be used as a less volatile alternative to the U.S. dollar as a global reserve asset.
Geithner suggested that the SDR basket could be altered to include currencies from emerging economies, such as China.
"Over time, we believe that currencies of large economies heavily used in international trade and financial transactions should become part of the SDR basket," he said.
However, inclusion in the SDR basket would come with conditions, according to Geithner.
"To achieve this objective, the concerned countries should have flexible exchange rate systems, independent central banks, and permit the free movement of capital flows,' he said.