Budget cuts: $10 billion down, $23 billion to go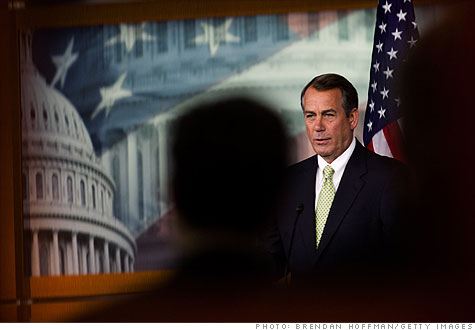 NEW YORK (CNNMoney) -- They have cut the easy stuff: Broadband subsidies, emergency steel loans and the International Fund for Ireland.
Over the past month, Congress has enacted $10 billion in 2011 spending cuts.
Now, with just a week to go before a government shutdown, lawmakers are fighting over a deal that would set spending levels for the final six months of the fiscal year and keep the government open for business.
That would mean an end to the short-term budget fixes that have tied agencies in knots, and generally wrecked havoc on the operations of the federal government. (Read how short-term fixes impact agencies.)
Democrats say the bill would set 2011 spending $33 billion lower than 2010 levels.
But Republicans have not endorsed the $33 billion number, saying there is no deal until the total contents of the bill are finalized. Still, both sides say negotiations are moving ahead.
Negotiators will be looking for $23 billion in savings, since Congress already agreed to cuts totaling $10 billion in two previous short-term spending bills.
The most recent of those measures reduced or terminated 2011 funding for 25 government programs, for savings of $3.5 billion. A railroad safety technology program was whacked, along with money for the Abraham Lincoln Bicentennial Commission.
It also eliminated an additional $2.6 billion in earmarks. That added up to $6 billion in savings.
Before that, Congress agreed to $4 billion in cuts that slashed funding for earmarks and eliminated eight government programs.
But the programs that got the axe -- like the Broadband Direct Loan Subsidy and the Smithsonian Institution Legacy Fund -- were nobody's idea of efficient, valuable programs.
In fact, Republicans identified the programs to cut by combing their own budget plan and Obama's 2012 budget proposal for spots where they agreed.
But now the low hanging fruit has been picked. Finding $23 billion in cuts everyone can agree on won't be easy -- and maybe not the best way to go about budgeting.
"To start with a topline budget number and then backfill your programs into it totally misses the point of how to budget effectively," said Craig Jennings, the director of federal fiscal policy at OMB Watch, a group that monitors federal spending.
Effective budgeting aside, it's clear the hunt for $23 billion has begun in earnest.
Already, Democrats are hinting that they would like to broaden the scope of programs considered for cuts.
Democratic Sen. Charles Schumer told reporters on Friday that the bill will include cuts to mandatory spending programs. That section of the budget had previously been off the table. And Majority Leader Harry Reid hinted that cuts at the Defense Department are being considered.
And that belies the difficulty of finding money to cut. The Pentagon in recent months has delayed 75 projects, and the Army and the Marine Corps have imposed temporary civilian hiring freezes.
They say there just isn't enough money. And that's the challenge facing negotiators: Find places to cut that keep everyone (relatively) happy.