Oil above $108 breaks 30-month high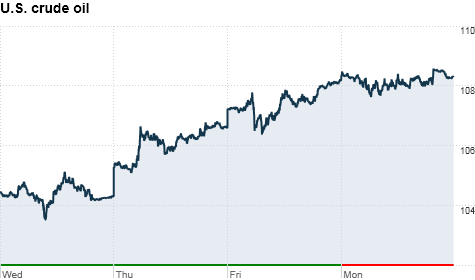 NEW YORK (CNNMoney) -- Oil prices breached a 30-month high Monday, as investors continued to cheer a better-than-expected report on the U.S. job market.
Investors welcomed Friday's jobs report as a positive sign that demand for fuel could pick up, as the economic recovery pushes forward.
Crude oil for May delivery fell 53 cents, or 0.5%, to settle at $108.47 a barrel Monday -- its highest close since September 2008. The contract traded as high as $108.78 earlier in the session.
Brent crude, Europe's benchmark, rose $2.30, or 1.9%, to $121 a barrel.
Oil has been on a rally since mid-February, when protests broke out in Libya -- Africa's third-largest oil producer. Investors have been concerned that uprisings in the Middle East could spread to even larger oil producers, like Saudi Arabia, and limit supply coming from the region.
Over the weekend, Nigerian officials announced they will push parliamentary elections back a week, following violent uprisings in the country. Nigeria is Africa's largest oil producer.
Analysts estimate turmoil in North Africa and the Middle East is adding a $15 to $20 risk premium to oil prices.
"The real price of oil is probably somewhere around $90," said John Canally, investment strategist at LPL Financial. "But with Libya, now Nigeria, and just general unrest, traders are nervous about supply disruptions -- so oil stays high."
Meanwhile, the earthquake and tsunami in Japan have since kept on investors even more on edge.
As the world's third-largest economy recovers from the disaster and subsequent nuclear crisis, some analysts predict Japan will increase its demand for oil, sending crude prices even higher.
Despite all the turmoil, money managers surveyed by CNNMoney expect oil prices to ease from their recent highs, and average out to $97 a barrel by year's end.
Meanwhile, the national average price for a gallon of regular gas rose to $3.662 Monday, up 1.7 cents from the day before, according to a daily survey from motorist group AAA. Gas prices have risen for 13 days in a row and are now about 45 cents shy of the record $4.114 reached in July 2008.