Oil, gold, silver are 'uncertainty magnets'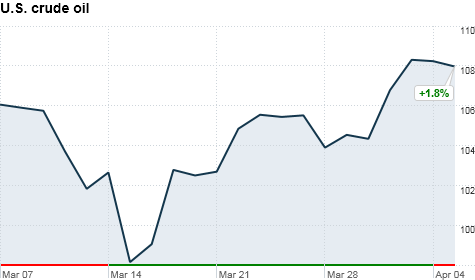 NEW YORK (CNNMoney) -- Geopolitical concerns have eroded confidence in paper money, leading investors to pile into commodities -- which, in turn, have reached multi-year and all-time highs.
Tensions in the Middle East and Libya have not abated, and Japan is dealing with post-earthquake rebuilding and ongoing nuclear issues.
"We have major issues going on both abroad and at home, and commodities are great uncertainty magnets," said PFG Best senior market analyst Phil Flynn.
The appeal of stocks has been somewhat tarnished by the volatile global situation, and bond investors "have been kind of forced out by the Fed's low interest rates," Flynn said.
Meanwhile, the physicality of commodities have boosted their appeal -- and made prices soar.
Precious metals shine: "We're almost going back to a barter system, where commodities have more value than paper," Flynn said. "People keep blaming the speculators, but there are good reasons to be in commodities."
In addition to the Middle East and Libya unrest, as well as the Japanese crisis, Flynn said investors are nervous about the U.S. budget deficit and seeing "paper money being pumped out" around the globe.
"People have lost confidence in paper currencies right now," Flynn said.
Instead, they're piling into gold and silver at a rapid clip. In Tuesday's session, gold for June delivery hit a record intraday high of $1,451.20 an ounce and a record settle of $1,452.50 an ounce.
Flynn said gold could soar as high as $2,000 an ounce in the coming months.
Silver has also been on a roll, having recently hit 30-year highs near $40 an ounce. On Tuesday, silver for May delivery gained 1.8% to settle at $39.18 an ounce.
Oil prices: Oil has been rallying since mid-February, when protests broke out in Libya -- Africa's third-largest oil producer. But traders' concerns are more about whether the regional unrest will spread to even larger oil producers, like Saudi Arabia, and limit supply coming from the region.
Over the weekend, Nigerian officials said they were pushing parliamentary elections back by one week following violent uprisings in the country. Nigeria is Africa's largest oil producer. That news gave oil a boost above $108 a barrel Monday.
On Tuesday, crude oil for May delivery slipped 13 cents, or 0.1%, to settle at $108.34 a barrel. Before Monday's close, prices hadn't settled above $108 since September 2008.
Meanwhile, the earthquake and tsunami in Japan have since kept investors even more on edge. As the world's third-largest economy recovers from the disaster and subsequent nuclear crisis, some analysts predict Japan will increase its demand for oil, and send crude prices even higher.
"We are looking at the greatest threat to oil supply we've seen in our lifetime," Flynn said, adding that a former Saudi oil minister recently said more unrest in the region could push crude prices to $200 a barrel.
In spite of all the turmoil, though, money managers surveyed by CNNMoney expect oil prices to ease from their recent highs, and average out to $97 a barrel by year's end.
Gas prices: And higher oil prices have translated to steeper gasoline prices. On Tuesday, the average price for a gallon of regular gas rose 2.3 cents to $3.685 -- the 14th consecutive increase. Prices are up 14 cents over the past two weeks.
While they're still about 12% below the all-time high of $4.114 a gallon, that record was set in July 2008, as the summer driving season was already in full swing. Current prices could reach that point before summer driving really even gets underway this year.