NRG CEO: 'Fear of China is overblown'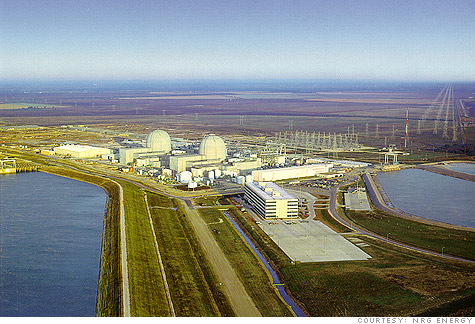 LAGUNA NIGUEL, Calif. (CNNMoney) -- When it comes to alternative power, NRG CEO David Crane is pumped about solar energy and, despite the naysayers, believes the U.S. can still compete with China.
"Fear of China in the energy space is overblown," Crane said at Fortune's Brainstorm Green conference. "We haven't lost that battle yet."
Crane pointed to the burgeoning electric car and solar markets as things that could make the U.S. more competitive against Chinese companies. He said the price of photovoltaic cells, used to create solar power, is falling and sees the electric car industry hitting full stride in 2012.
He said that production costs, especially transportation costs, would eventually force companies to bring new alternative energy manufacturing to the U.S.
"Between solar and electric vehicles I don't think the Chinese can keep up," Crane said.
China recently overtook the United States as the top country for renewable energy investment. Many experts in the industry fear the United States is being left behind in the clean energy race.
On the Japanese nuclear disaster:
The ongoing disaster is making it challenging to seek investments for nuclear power projects, Crane said.
Japan's TEPCO utility, which owns the distressed Fukushima plant, was supposed to be one of the main investors at a nuclear plant in south Texas that NRG (NRG, Fortune 500) wants to expand. Crane said the project is currently at a standstill.
"TEPCO was going to be a major investor, but at this time you aren't going to Japan asking, 'what about our project?'"
But Crane thinks the tragedy in Japan isn't the death knell for nuclear energy. Although the current perception in the U.S. is that nuclear power is dangerous, often American opinion can change quickly.
"I thought that the deep water spill would have a big impact on [public support for more] drilling," he said. "But it seemed that lasted about a month."
On the biggest obstacle to nuclear:
"Natural gas prices are the biggest inhibitor to nuclear power, not the tragedy in Japan."
Natural gas prices have plummeted on abundant shale gas production in this country.
On a comprehensive energy policy:
"You would hope after all these disasters you'd get Congress to act," said Crane. "The only thing that will make them act is $4.50 - $5.00-a-gallon gas, and who knows what they'd do."
Check out Poppy Harlow's in depth interview from the FORTUNE Brainstorm Green conference, coming soon.