Where GOP budget would bite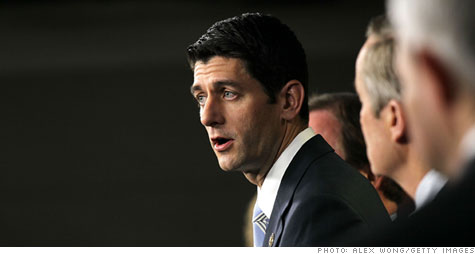 NEW YORK (CNNMoney) -- Good news: The budget proposal unveiled Tuesday by House Republicans would dramatically reduce the country's long-term debt.
But that improvement in the fiscal forecast would come at a cost.
Of course, any serious effort to reduce the unsustainable growth in the country's debt won't come easy. The fight is over who feels the brunt the most.
Under the House GOP plan, many Americans would pay more for their health care in retirement. States would receive less money from Washington. And a vast number of government services and programs would see steep cuts in funding.
That's the bottom line from an analysis released late Tuesday by the Congressional Budget Office.
The widely-anticipated plan put out by House Budget Chairman Paul Ryan calls for $6 trillion in spending cuts over the next decade, a radical overhaul of Medicare and Medicaid and a reform of the tax code.
The CBO's long-term analysis was done at Ryan's request. It is not, however, an official "score" of the budget resolution.
The nonpartisan budget agency estimated that Ryan's proposal would slice federal debt held by the public to 48% of the economy by 2040 and to 10% by 2050. Today it tops 62% and, if no changes are made to current policies, the CBO projects, debt would top 200% by 2040 and 300% by the middle of the century.
Ryan's plan achieves that dramatic reduction in debt in several ways.
Raise future retirees' health costs: Ryan's proposal would convert Medicare -- a fee-for-service health care program for seniors -- into a "premium-support" system for everyone under 55 today. Seniors would choose from a Medicare-approved list of private insurance plans and the cost of their chosen plan would be subsidized in part by the federal government.
Premium-support payments for 65-year-olds in 2022 would be $8,000 on average. The subsidy for new enrollees would grow from there in keeping with consumer price inflation. And the subsidy would be further adjusted annually for the beneficiary's age, health status and income. The higher one's income, the less one's subsidy.
The plan would also raise the Medicare eligibility age from 65 by two months a year starting in 2022 until it reached 67.
The changes would reduce federal health spending commitments and make them more predictable. But, the CBO estimates that "most elderly people would pay more for their health care than they would under the current Medicare system." And they would assume greater financial risk "if the volume, complexity and costs of medical services turned out to be greater than expected."
Raise states' health costs: Under the GOP proposal, federal payments to states for Medicaid -- the health program for the poor and disabled -- "would be substantially smaller than currently projected amounts," the CBO said.
Instead of making payments based on a formula tied to states' costs, the federal government would offer a block grant to be allocated among states.
While the block grant would give states more flexibility to design their Medicaid services, the reduced payments may mean states would either have to reduce their payments to Medicaid providers, reduce eligibility for Medicaid, or provide less extensive coverage.
Reduce funding for many programs: Ryan's office asked the CBO to assume that spending for programs other than Medicare, Medicaid and Social Security would be reduced from 12% of GDP currently to 6% by 2022 and 3.5% by 2050.
The programs and benefits that would potentially face funding cuts include food stamps, unemployment benefits, federal civilian and military retirement, most veterans' programs, Supplemental Security Income and the refundable parts of the earned income tax credit and child tax credit.
The agency notes that spending on such programs has exceeded 8% of GDP every year since World War II.
Under Ryan's plan, spending in this category would grow with inflation. As a result, the CBO said, "the quantity of real government services per person would decline as population increases."