Google's massive undersea power spine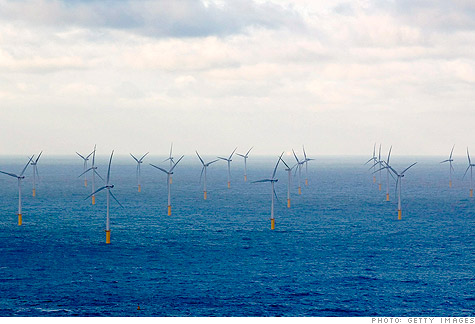 LAGUNA NIGUEL, Calif. (CNNMoney) -- Google is helping build a massive undersea power cable along the East Coast that's designed to ferry clean power from offshore wind farms to the country's most populous region.
Starting off in southern Virginia and ending in northern New Jersey, the cable would lay on the sea floor some 10 to 20 miles offshore. It could carry up to 6,000 megawatts of clean electricity, enough to power nearly 2 million homes.
"It's a piece of what could become the interstate highway system of the electrical grid," Bill Weihl, the company's energy czar, said during a panel discussion at Fortune's Brainstorm Green conference Tuesday. "It will make it easier for people to site offshore wind."
Backers of the project hope the high voltage, DC-current cable will attract wind farm developers to construct farms off the East Coast.
Offshore wind has several advantages to onshore wind, including steadier and stronger breezes and a location that's out of sight and earshot from most people.
But it's expensive, and there are currently no commercial offshore wind farms in the United States.
Besides cost, another major obstacle to building any type of wind farm has been transmission -- how to get the power from the often remote places where the wind blows, to the cities were it's consumed.
"It's a bit of a chicken or an egg thing," said Weihl, responding to critics who say that Google is getting ahead of itself by building a power cable where there's currently no power production. "We see the opportunity to both make money and do some good."
Google is an investor in the project, which is run by the transmission company Trans-Elect. It has a 37.5% stake in the cable. Google first announced its involvement in the project last October.
No word on when construction might begin. Weihl said they are still in the design and permitting process, but added that it's possible work could start within the next 12 months.