The Fords: Public spotlight falls on a private family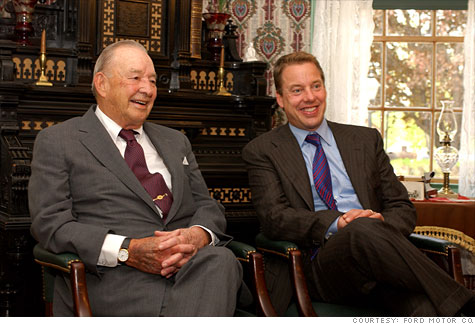 FORTUNE -- Today, I was reminded of how difficult it is to be a Ford in Detroit. You are always in the spotlight and one misstep can cause a lifetime of embarrassment and shame.
Now it has happened to Elena Ford, the first cousin, once removed, of Ford Motor executive chairman Bill Ford and the great-great-granddaughter of the company's founder. She was arrested Sunday night on suspicion of drunk driving in a Detroit suburb and spent the night in jail. Since her 11-year-old son was in the car as well, she was also charged with child endangerment.
In its edition today, the Detroit News ran the booking photo of Ms. Ford, looking glassy-eyed and chagrined. It reported that her blood-alcohol level when tested was double the legal limit.
Ms. Ford's arrest will doubtless be chewed over by the local newspapers and broadcast media. Yet its very newsworthiness is a reminder of how successful the Ford family has been at staying out of the public eye.
It is remarkable, really. There are dozens and dozens of Fords in the Detroit area, some of them with historic names like Henry and Edsel. They can barely so much as jaywalk without becoming the subject of dinner-table gossip.
Yet outside their connection to the auto company, known locally as Ford's, you just don't hear about them.
England's royal family could take some lessons from Detroit's royalty.
That was most definitely NOT the case when I lived in Detroit in the late 1970s. Members of the Ford family were in the news all the time.
One fourth-generation member, Alfred Brush Ford, had joined the Hare Krishna movement and was reported to have given away more than $2 million in the process of setting up a good distribution program.
Another fourth-generation member, Benson Ford Jr. declared public war on the company and the family. He wore a recording device to a family gathering, hired rogue lawyer Roy Cohn to overturn his father's will, and disrupted the shareholders' meeting in 1979 by publicly lobbying for a seat on the board of directors.
Their uncle, Henry Ford II, didn't exactly set a good example. While chairman and CEO of the company in 1975, he was also arrested for driving under the influence after a Ford event in California. More unfortunately, there was a woman in his car who was not his wife. Henry's British-born P.R. man provided the proper public statement for the occasion. Paraphrasing Disraeli, he declared, "Never complain, never explain."
That kind of outburst has become almost extinct as leadership of the family has passed from Henry's descendants to those of his younger brother, William Clay Ford.
A graduate of Yale and a member of Augusta Nation, he is impeccably mannered. Even as the owner of the Detroit Lions, he is rarely seen doing anything untoward in public.
His son Bill has followed his example. Except for the occasional tiff with the company's professional managers, his public behavior has been beyond reproach.
The same goes for other family members who work for the company. Bill's cousin Edsel has had plenty of free time since he left his full-time job at the company in the late 1990s. So he has immersed himself in work as an independent investor and in numerous charitable activities. His son, Henry III, who works at the company, is by all accounts, even-tempered and even-keeled.
Elena has found herself in a difficult situation. Ford women have not traditionally sought work at the company and none have served on the board of directors.
Early on, Elena let it be known that she was going to change that and declared her intention to move up the company's ranks.
Move up she did, into a marketing job reporting to Ford Motor's (F, Fortune 500) global head Jim Farley. Although Farley twice singled her out for praise at a recent event in New York, it can't have been easy for her, despite her family connection. In a field whose practitioners tend to be smooth and glib. Elena is neither, instead making a virtue of ambition and grit.
She is not the first member of her family to be sidetracked by alcohol. Henry II was a heavy drinker, and William Clay has been a member of Alcoholics Anonymous.
Elena's brush with the law will presumably end her career ambitions. And if the recent past is any indication, it will be the last time for quite a while that a Ford turns up in the news.