GM vs. Ford: The hundred-year war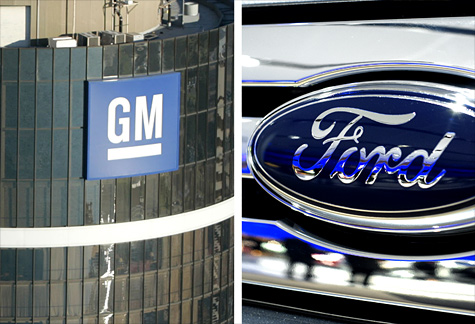 FORTUNE -- It's the mother of all corporate rivalries, bigger than Coke vs. Pepsi, older than Nike vs. Reebok, and more compelling than Pampers vs. Huggies. It's fought with billion-dollar budgets for new models and marketing, and it is subject to more ups and downs than the stock market.
While it may be temporarily overshadowed by the troubles of Japanese auto makers, and imperiled long-term by the rise in oil prices, one constant remains in Detroit: General Motors vs. Ford. The two companies have been battling it out for profits, market share, and hometown bragging rights almost from the time GM (GM) was founded in Flint, Michigan in 1908, five years after Ford (F, Fortune 500) got started in the Detroit suburb of Dearborn.
Keeping score means watching three major indicators: annual profit, market capitalization, and U.S. market share -- both retail share to private customers and overall share that includes fleet buyers.
At the moment, the two auto giants are fighting a pitched battle over market share. GM is currently the overall leader, but analysts are divided on who the real winner is. They also warn about the collateral damage that comes from excessive spending on marketing incentives.
Of little significance by themselves, skirmishes like this one can herald inflection points in long-term trends. Over the last century, the two companies have rarely changed position. Ford held the lead until the late 1920s when the Model T ran out of gas, and then fell permanently behind the market-dominating GM machine created by Alfred P. Sloan. In the ensuing decades, Ford enjoyed brief periods of leadership in the late 1980s and again in the 1990s, but GM stayed in front until it began to skid into its 2009 bankruptcy.
Since then, leaner and swifter GM has been transformed into a fighting machine. Behind new CEO Dan Akerson, it has been swapping out older executives for more aggressive younger ones, accelerating production plans and product programs, and working harder on the salesroom floor.
Akerson's moves have come as Ford rides a wave of public esteem resulting from improved product quality, smart use of global resources, and the focused leadership of CEO Alan Mulally.
At the moment, Ford holds a small edge in annual profits -- $6.6 billion in 2010 to $6.2 billion for GM -- and a larger one in market cap -- $55 billion to GM's $50 billion -- thanks to a 20% run-up in share price this year.
U.S. market share, however, has been a dogfight. GM held a commanding lead at the end of 2010 with 19.6% of the market vs. Ford's 16.6%. GM widened its lead in January with 21.8% to Ford's 15.5%, but fell back a bit in February to 20.8% while Ford held on to 15.7%.
March marks the opening of the important spring selling and analysts are forecasting a different outcome. Much of the current analysis centers on GM's use of marketing incentives. GM was spending $1,000 more per vehicle in January and February, according to Edmunds.com. Last month, it also sweetened the pot with $1,000 for GM owners if they bought a new GM car.
Analysts say GM has backed off on incentives in March and taken a resulting hit in market share. Veteran analyst Rod Lache of Deutsche Bank figures that GM cut incentives by more than $1,000 in March, and its share fell to the 17% range. Meanwhile, he says Ford continues to show strong pricing discipline and it is closing in on GM, with March share of 16%-17%. In more valuable retail share, which doesn't include sales to fleet buyers, Lache believes Ford has passed GM, notching 15.5% to GM's mid-14% range.
Ford is ready to break out the champagne. "GM share spiked post-IPO based on higher incentives, designed to attract current owners of GM models," says Ford's sales analyst George Pipas. "History shows that when GM's program ends, share falls dramatically." But he adds, "Personally I think it is too early to predict how the month will unfold."
If Ford does nose out GM in retail share in March, it would be the occasion for attaboys all around in Dearborn but not every analyst believes Ford can pull it off. Edmunds.com senior analyst Ray Zhou also sees Ford's retail share improving, up 9% so far this month, while GM's has fallen 18%. Even so, he believes GM will end the month at 17% retail versus 14% for Ford.
Most observers expect GM to stay ahead of Ford in overall share for the rest of the year. It is getting a big lift from the Chevrolet Cruze on the car side, as well as the Chevy Equinox crossover. Independent analyst Warren Browne believes that GM is due to get better share for the last nine months of 2011, just as it did in 2010, while higher oil prices will mean trouble for pickup sales at Ford.
But if the new Ford Focus catches fire, it could swing events in Ford's favor. That could set off more fireworks at GM, which has had more turnover in senior management in the last six months than at any time in memory. Whatever happens, it's clear that despite outside events, the competition between these two rivals remains as fierce as ever.