Budget deal averts shutdown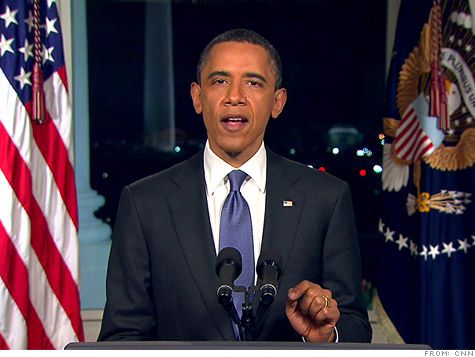 NEW YORK (CNNMoney) -- Lawmakers pushed through a last-minute spending bill Friday night to avert a shutdown and keep the federal government open for business.
The short-term spending measure -- the seventh in the past six months -- cut $2 billion and allows agencies to spend money through next Friday. The White House said Saturday afternoon that President Barack Obama signed the short- term measure into law.
Meanwhile, lawmakers will try to put the finishing touches on a broader bill that will set funding levels for the remaining six months of the fiscal year at $38.5 billion lower than last year.
"I do believe that we will have, what we'll call, a bridge continuing resolution passed tonight to ensure the government's open," House Speaker John Boehner announced just before 11 p.m.
The House is scheduled to vote on the deal Wednesday, and the Senate vote is likely to come after that.
Minutes after Boehner announced that a deal had been reached, Obama said at the White House that the government will be open for business on Saturday.
"Tomorrow, I am pleased to announce that the ... entire federal government will be open for business," Obama said.
Added Senate Majority Leader Harry Reid: "We didn't do it at this later hour for drama, we did it because it's been very hard to arrive at this point."
Within seconds of Reid finishing his floor speech, the Senate passed the short-term bill and moved it to the House, where it passed after midnight.
It appeared that the broad outlines of a longer-term deal were in place late Friday, but legislators were forced to resort to passing the simpler, short-term bill because the final legislation on the six-month deal is still a work in progress.
Republicans hoped to make the majority of the long-term cuts from a small part of the budget -- a section called non-security discretionary spending.
That section of the budget makes up roughly 12% of all federal spending, and Democrats had sought to spread the cuts to other parts of the budget to alleviate pain on some of their favorite programs.
Obama and congressional leaders on both sides of the aisle had expressed a reluctance to pass yet another short-term bill that would last just a few days. But the alternative -- a government shutdown -- forced them to act.
For federal workers and the agencies that employ them, the stopgap measure means a reprieve from the consequences of a government shutdown.
If the two sides had failed to find common ground, the resulting shutdown would have meant millions of federal workers would not have gotten a paycheck and many of the services that Americans depend on would have abruptly stopped.
For days, Democrats and Republicans have argued over just a few billion dollars in spending cuts. Obama joined the debate, but the two sides remained at odds over the level of cuts and a set of controversial social policy measures pushed by Republicans.
Those negotiations stalled earlier Friday, despite assurances from the leadership of both parties that progress was being made and meetings had been productive.
But a Republican push to cut $317 million in federal funding from Planned Parenthood failed. Democrats also thwarted attempts to get federal dollars currently set aside for family planning and women's health turned into block grants for states.
However, sources told CNN that leaders of Senate agreed to hold separate votes on both measures, as well as on an initiative to repeal Obama's health care overhaul.
Usually, lawmakers make some effort to pass a real, 365-day budget. Not this year. Instead, lawmakers have passed seven short-term spending bills to make it this far.
That stop-and-go funding pattern left agencies struggling to implement new legislation like the Dodd-Frank Wall Street reform bill. And other agencies delayed awarding big contracts. The Department of Defense even put the construction of a Virginia-class attack submarine on hold.
-CNN's Dana Bash, John King, Ted Barrett, Alan Silverleib and Deirdre Walsh contributed to this report.