Why investors don't fear a government shutdown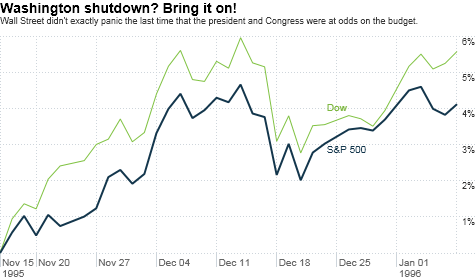 NEW YORK (CNNMoney) -- You can add the looming federal government shutdown to the long list of things that Wall Street doesn't seem too worried about.
But unlike the turmoil in the Middle East and rising oil prices, the debt crisis in Europe, worries about slowdowns in Japan, China and other parts of Asia and the continued mess that is the U.S. housing market, this latest bit of Washington gamesmanship is something investors should actually ignore.
The last time that the government shut down -- a two-stage process in late 1995 and 1996 -- stocks actually rose about 5% during that period. It may be a stretch to expect another rally of that magnitude. But it seems doubtful that the budget bickering will lead to a major sell-off.
Simply put, investors are far less interested than say, the media, about what's going on in our nation's capital. The faces in the White House and on Capitol Hill may change every couple of years but the story's usually the same.
I've summed it up in this alliterative phrase: Pigheaded partisan politicians play poorly. And were surprised it's come to this, why?
"The shutdown talk is noise," said Jeffrey Saut, chief investment strategist for Raymond James in St. Petersburg, Fla. "It really won't have a major effect on the economy. The government is unproductive. Everybody already knows that."
Now Saut is being a bit overly glib, of course. A shutdown would be bad news for many "non-essential" government employees, small businesses and defense contractors. But he has a good point.
Next week, investors are going to start getting blitzed with the latest quarterly earnings reports from Corporate America. Dow component Alcoa (AA, Fortune 500) unofficially kicks off the earnings parade after the bell Monday. Results from JPMorgan Chase (JPM, Fortune 500), Bank of America (BAC, Fortune 500) and Google (GOOG, Fortune 500) are also due out next week.
Strong profits will easily trump any of the rhetoric from Boehner, Reid and the rest of our elected officials in Congress. Even if a deal gets done before midnight and the political junkies start yakking about the fiscal 2012 budget, that's still just a distraction for investors.
"What's driving the market here and will likely continue to do so are better than expected earnings and low interest rates," Saut said. "How sustainable this is is a legitimate question but it has nothing to do with Washington."
Haag Sherman, managing partner with Salient Partners, an investment firm in Houston, agreed. He said that the budget drama probably doesn't even make the top 5 list of what investors need to focus on right now. As long as earnings reports are solid, that likely will lead stocks higher in the short-term, he said.
Sherman added that what's most absurd about the debate is the fact that Democrats and Republicans are yammering about a number in the range of tens of billions of dollars, an infinitesimal amount of total spending.
"You're talking about such a small percentage of the federal budget. It's largely a joke and most investors see it as a joke," he said. "The political ramifications are far greater than financial concerns for now."
Still, at least one market strategist said that a shutdown is worth paying attention to -- and that it could actually do some good in the long-run.
"The big difference between now and 1995-1996 is that a shutdown may be a step toward putting us on a sustainable path to a long-term fiscal solution to the debt and deficit problems," said Bill Stone, chief investment strategist with PNC Asset Management Group in Philadelphia. "That has to happen."
Reader comment of the week With gas prices creeping closer to $4 a gallon, that's really something to potentially worry about. I re-tweeted (odd how that's now a verb, eh?) a piece by my Fortune colleague Colin Barr this week about how the ECB helped fuel the run in oil and gas in 2008 with a misguided rate hike.
But Ed Chaney pointed out that the ECB isn't the only central bank to blame. "Was ecb raising rates the catalyst for $4 gas or was the fed lowering rates the more likely cause?" he wrote.
Good point. And with the ECB just having raised rates Thursday and the Fed seeming hell bent on keeping rates near zero for awhile, you have to wonder if a weaker dollar, stronger euro and the summer driving season means $4 gas nationwide is almost guaranteed. Sigh.
-- The opinions expressed in this commentary are solely those of Paul R. La Monica. Other than Time Warner, the parent of CNNMoney, and Abbott Laboratories, La Monica does not own positions in any individual stocks.