U.S. wins when China invests in green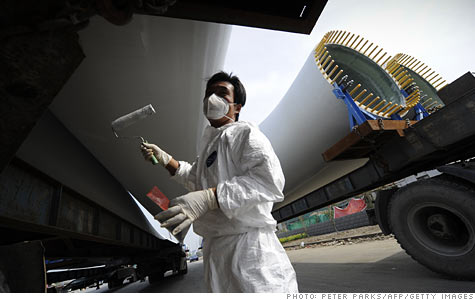 LAGUNA NIGUEL, Calif. (CNNMoney) -- The United States wins when China invests in renewable energy.
That was the message from Matthew Kahn, an economics professor at UCLA, speaking Wednesday at Fortune's Brainstorm Green conference.
The United States wins because Chinese investment provides a market for U.S. companies in the alternative energy space. Plus, Chinese investment helps advance clean energy, bringing it closer to cost competitiveness with fossil fuels.
"This is not a zero sum game," said Kahn, speaking on a panel about China's green investments. "This makes the United States better off."
And China is certainly investing.
The Chinese government poured $120 billion into renewable energy last year while the U.S. invested just $20 billion, according to numbers cited at an earlier Fortune panel. China recently overtook the United States as the world's top market for attracting private capital for renewable energy investments.
All that money has left many concerned that the United States is losing the so-called clean energy race to China, and the jobs that go with it.
"China is where the large scale action is happening today," said fellow panelist Li Lu, head of the investment firm Himalaya Capital Management. "China is on the cutting edge of implementing leading technology and infrastructure."
All the panelists agreed that support from the Chinese government is essential for sustaining the renewable energy industry in that country.
The Chinese government has a vested interest in finding cleaner energy sources. The country currently burns massive amounts of coal, and its citizens are literally suffocating under air pollution.
Lu said the push into renewables may ultimately help clean up the air, but probably not as fast as another new technological advancement: the ability to extract natural gas from shale rock.
"There are good reasons to believe that China will have as much shale gas as the United States," he said.
Advances in drilling technology have allowed the United States to unlock vast quantities of natural gas in the last few years -- some say over 100 years worth of new supply.
Natural gas can be burned to make electricity and is cleaner than coal, although extracting it from shale has led to concerns over water pollution.