Mini Cooper with a Rolls-Royce inside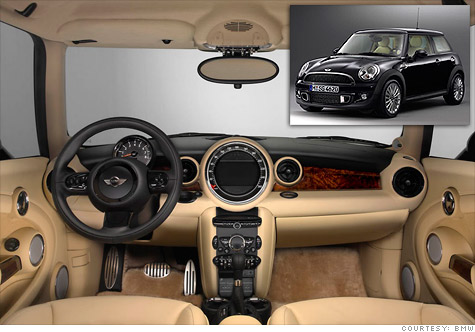 NEW YORK (CNNMoney) -- For those looking for that Rolls-Royce experience but in a smaller package, the Mini Cooper will soon be available in a special edition featuring plush design touches straight from the iconic ultra-luxury British automaker.
The Mini Inspired by Goodwood, the limited edition Mini's full name, won't fool anyone into thinking it's an actual teeny Rolls. But those who know, will recognize various exclusive Rolls-Royce colors and materials including "corn silk" colored roof linings and leather trim and "Walnut Burr" wood touches on the dashboard.
Underfoot, the Mini Inspired by Goodwood has the same extraordinarily thick pile carpet found in a Rolls-Royce.
The interior palette was selected for this car by Rolls-Royce designers at that automaker's Goodwood, England headquarters. Various other design elements, such as the typeface used on the speedometer are also borrowed from Rolls.
Rolls-Royce and Mini are both owned by Germany's BMW.
Instead of the massive V12 engine you'll find under the hood of a Rolls-Royce, the Mini Inspired by Goodwood is powered by the same 181-horsepower turbocharged 4-cylinder engine found in a Mini Cooper S. One benefit for the ecologically minded rich: the Mini will get an estimated 30 miles per gallon in combined city and highway driving, more than double that of a Rolls-Royce Phantom.
The Mini Inspired by Goodwood will be officially unveiled next week in Shanghai and will go on sale in the spring of 2012. Only 1,000 will be made. BMW has not yet announced a price for the car.