Porsche 911: It's a grocery-getter. Really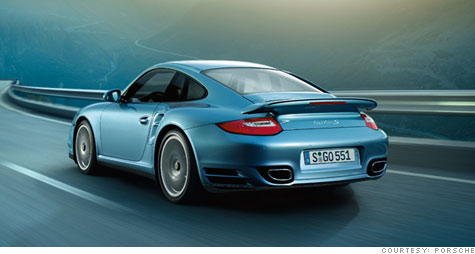 NEW YORK (CNNMoney) -- A new Porsche ad campaign is touting the many practical advantages of owning one of the German automaker's iconic sports cars.
Yes, you read correctly. We said practical.
In one ad, a man is shown picking up bags of mulch -- or something -- at a hardware store and plopping them into the front cargo compartment of a Porsche Cayman. In another scene, a mother picks up two kids at school in a yellow 911.
The ads are based on market research showing that people who've never owned a Porsche 911, Cayman or Boxster just don't understand how really useful these cars are, said David Pryor, vice president of marketing for Porsche U.S.A.
"It was something that's staring you right in the face," Pryor said. "You see it all the time, when a guy arrives at the park in a 911 and gets out with his kids, you see all these other guys nudge their wives on the arm and say 'See, and you thought we needed a minivan.' "
I happen to have some real-life experience with Porsche sports cars. My father drove them, almost exclusively, for years and I spent a lot of time riding in that tiny seat behind him, watching his right hand flick through the gears. But I don't recall my father ever picking up anything at the hardware store in his 911. On other hand, I don't recall my father ever setting foot in a hardware store at all.
Decades later, I did get to take my wife and son to Costco in a Porsche 911 Turbo Cabriolet while I had it on a road test loan from the automaker. (Sticker price -- roughly $150,000. The look on other patrons' faces as we stuffed our bulk purchases under the hood, priceless.) Everything fit, but we didn't pick up the mega-pack of power towels on that trip.
The rear-engine 911 has two back back seats and cargo space in front under the "hood." The less expensive Cayman and Boxster lack the back seats -- in those cars the engine is mounted directly behind the driver -- but they do have the front luggage compartment.
Porsche now makes vehicles with four doors, far more spacious backseats and more luggage room than the sports cars, with the Panamera sedan and Cayenne SUV.
"The idea of 'everyday' already applies to the Cayenne and Panamera," Pryor said.
It's not that Porsche sees its sports cars ever becoming a family's primary transportation, he said, but they could be bumped higher up on the priority scale than they now are.
"They're always put it into the category of a third or fourth car," he said, "not a second car."