JPMorgan execs knew about Madoff, suit says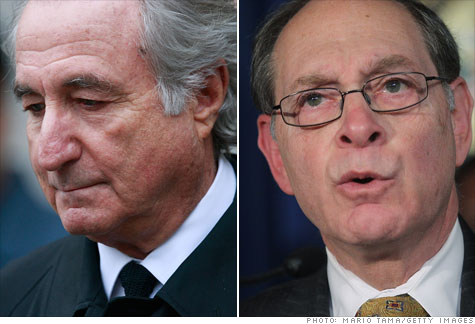 NEW YORK (CNNMoney) -- The federal bankruptcy court judge presiding over the Bernard Madoff case has revealed the JPMorgan Chase employees who allegedly suspected they were doing business with a Ponzi schemer.
JPMorgan (JPM, Fortune 500) employees John Hogan and Matt Zames suspected that Madoff was operating a scam long before his December 2008 arrest, according to a lawsuit filed by Irving Picard, the trustee appointed by U.S. Bankruptcy Court in the Southern District of New York.
The updated document opens with this quote, which is attributed to Hogan, chief risk officer for JPMorgan: "For whatever it['s] worth, I am sitting at lunch with Matt Zames who just told me that there is a well-known cloud over the head of Madoff and that his returns are speculated to be part of a [P]onzi scheme."
Hogan allegedly made this statement in June 2007, according to the documents. That's about a year and a half before Madoff was arrested for orchestrating the largest, longest-running pyramid scheme in history. Madoff pleaded guilty in 2009 and is currently serving a 150-year sentence at a federal prison in North Carolina.
Hogan and Zames, a senior member of the firm, still work at JPMorgan, according to company spokesman Joe Evangelisti, who called any assertions that the executives or JPMorgan knew about the fraud "patently false."
"We are confident that we have strong defenses to the claims brought by the Madoff trustee and look forward to asserting those defenses in court," Evangelisti said in an e-mail statement.
CNNMoney initially reported the Hogan quote back in February, but with the names omitted. On Thursday, the court publicized the updated documents identifying Hogan and Zames.
The release of the names is the result of an April 12 order from U.S. Bankruptcy Court Judge Burton Lifland to reveal the formerly redacted names of employees of financial firms in lawsuits related to Madoff. These firms include Citibank (C, Fortune 500), which was sued for $425 million in December, as well as Tremont Group Holdings and Reliance International Research.
The trustee sued JPMorgan in December for $6.4 billion and accused the firm of profiting off Madoff's scheme. That includes nearly $1 billion in "fees and profits" and $5.4 billion in damages, according to the lawsuit, which accused JPMorgan of having a "decades-long role as [Madoff's] primary banker, aiding and abetting Madoff's fraud."
The trustee has also sued HSBC (HBC) for $9 billion and UBS (UBS) for $2 billion.
The trustee has sued many others for allegedly profiting off the scheme, including the former chief counsel for the Securities and Exchange Commission, members of the Madoff family and the owners of the New York Mets. These investors are accused of withdrawing more from Madoff's firm than they put in, though they deny that they knowingly participated in a Ponzi scheme.
Picard considers the ultimate Madoff beneficiary to be Jeffry Picower, who died of a heart attack in 2009. Since the 1970s, Picower had invested $619 million with Madoff's firm but withdrew $7.8 billion. Picower's widow Barbara settled with the trustee and federal authorities in December, when she agreed to hand over the difference of about $7.2 billion.
This money will eventually be transferred to investors who the trustee has determined to be victims of Madoff's Ponzi scheme. The trustee said in March that he was preparing to return $2.6 billion to victims. But the rest of the funds are held up by appeals from other investors who were rejected by the trustee for profiting off the Ponzi scheme, even though they claim they didn't know it was a scam.
Picard has said that Madoff stole about $20 billion, though the lawsuits against firms and individuals accused of profiting or taking part in the scheme amount to about $100 billion. At least half of the stolen money has been recovered, much of it through the forfeiture of assets, including Madoff's Manhattan penthouse, homes in Florida and France, and his yacht.
Of the 16,518 investors who filed claims with the trustee as Madoff victims, the trustee has determined that only 2,410 are "allowed," meaning that they are eligible for compensation.
These victims are eligible for about $6.8 billion in total compensation, including the $793 million that they already received from the Securities Investor Protection Corp., an organization that provides protection for investors.