How 'The Donald' could incite a trade war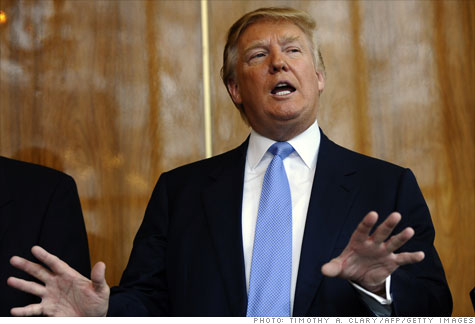 NEW YORK (CNNMoney) -- Donald Trump's call for a 25% tariff on Chinese goods is winning him a lot of attention as he weighs a presidential run in 2012.
But Trump seems to be overlooking the consequences that his economic policy would likely trigger: a destructive trade war and higher prices, according to some experts.
"In a trade war, everybody loses. Some may lose more than others, but everybody loses," said Nicholas Lardy, senior fellow at the Peterson Institute for International Economics, who has been a vocal critic of China's trade and currency policies.
Most economists would agree with Trump's logic that China is holding down the value of its currency to give its manufacturers an advantage when selling goods to the U.S.
"They have manipulated their currency so violently towards this country, it is almost impossible for our companies to compete with Chinese companies," Trump told CNNMoney in January, during which he laid out plans for his 25% tariff.
He insists that if the right messenger -- "somebody like me" -- makes the threat of imposing that kind of tax on Chinese goods, that Chinese leaders would quickly acquiesce.
But most experts argue that tariffs are the wrong response to currency manipulation, and come with steep costs.
Trade wars could arise: Imposing a tariff on China would do little more than irritate the world's second largest economy, economists say.
China could simply appeal to the World Trade Organization, the international body charged with enforcing global trading rules, which could challenge the tax.
China could also respond by closing its increasingly important market to U.S. exporters, which would be a major blow to American jobs and manufacturing. China has become the No. 3 market for U.S. exporters, with sales jumping 31% from the previous year.
And that doesn't even count the goods being made in China by U.S. companies. General Motors sells more cars in China today than it does in the United States, for example.
"The sad story is we don't have much leverage," said Lardy. "But a tariff certainly would not advance our interests."
Prices would rise: A tariff on China could also be a very expensive proposition for the United States.
That's because a rise in the value of the China's currency would make imported goods more expensive. At the same time, China would likely move to increase prices directly to cover the cost of the tariff.
But that's a risk Trump is willing to take. He says his son can live with fewer toys, as long as jobs come back to the United States.
"I have a son, and he loves little airplanes ... Most of them are made in China ... He has so many of 'em," Trump told CNBC's Larry Kudlow last month. "If he had half of 'em, and if they were made in this country, I'd be very happy ... and he'd be just as happy."
Jobs won't come back: Even if China caved and allowed its currency to trade freely tomorrow, and prices of Chinese goods climbed 25% to 30% overnight, there's little evidence to suggest that would bring jobs back to the United States, as Trump has argued.
Lardy said that if U.S. imports of Chinese goods dropped off, many of those imports would simply be replaced with goods from other low-wage, low cost countries, like Bangladesh.
"Most of the stuff we're buying from China has not been produced in the U.S. for decades," Lardy said.
Trump did not respond to numerous requests for comment on the criticism.
Not everyone thinks Trump's call for a tariff is bad idea.
A 25% tariff might not be high enough, according to Alan Tonelson, research fellow at the U.S. Business and Industry Council, which represents U.S. manufacturers.

"The real degree of Chinese undervaluation is at least 40%," he said. "Tariffs are the only way to fix this. Nothing else has worked, nothing else will work."
But even Tonelson concedes it'd be difficult for a tariff to survive a challenge from the WTO.
And much of the American public is interested in hearing more of Trump's ideas too -- polls show that he is now a leading candidate for the Republican ticket.
He says he'll make up his mind about running for president later this spring and announce his intentions following the season finale of his reality show "Celebrity Apprentice" in May.