'Fear gauge' jumps after U.S. outlook downgrade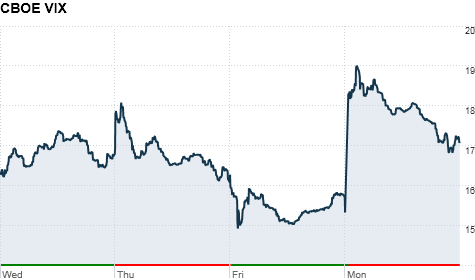 NEW YORK (CNNMoney) -- Wall Street's fear gauge soared more than 10% Monday, after Standard & Poor's slashed its outlook on U.S. debt to negative.
The VIX (VIX) rose 11% to a reading of 16.99 -- its highest level in three weeks. Earlier it was up nearly 23%.
However, the index is still well below the elevated levels it hit in mid-March, when the nuclear catastrophe in Japan became front page news.
A reading of 30 is typically considered a fear tipping point. The VIX index hit an all-time high of 90 during the height of the financial crisis.
On Monday, the S&P lowered its credit outlook for the United States' "AAA" rating to "negative" from "stable," citing uncertain political debate around the nation's fiscal problems.
"The outlook reflects our view of the increased risk that the political negotiations, over when and how to address both the medium- and long-term fiscal challenges, will persist until at least after national elections in 2012," said S&P credit analyst Nikola Swann.
The news sent the Dow falling 140 points, bond yields rising, and gold spiking to near $1,500 an ounce.