Gold and silver keep shining. Thanks, S&P!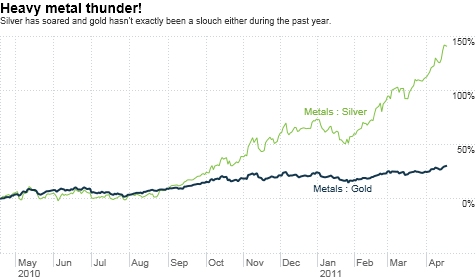 NEW YORK (CNNMoney) -- Metalheads (and I don't mean fans of Metallica, Megadeth and their ilk) got a nice little gift from Standard & Poor's Monday morning.
Gold and silver shot up Monday after the credit rating agency spooked Wall Street by revising its outlook for the United States' debt to "negative." (Kind of reminds me of the fictitious "Seinfeld" movie, "Prognosis Negative.")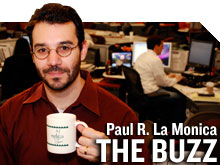 The two precious metals tend to do well in times when investors are jittery and want to invest in something safe and tangible. Stocks, bonds and the dollar may be just pieces of paper. But you can hold a piece of gold or silver in your hand.
Unsurprisingly then, they have been surging for most of this year thanks to a maelstrom of uncertainty. Egypt. Libya. Japan. Europe's PIIGS. China rate hikes. There's a lot to make you nervous before you even start worrying about Uncle Sam's budget woes.
Gold hit yet another new all-time high Monday and is tantalizingly close to $1,500 an ounce. Silver is just a hair below $43, a 31-year high. Can they possibly keep heading higher?
Probably. At least for the short-term.
The S&P warning is just the latest in a series of troubling bits of news. While the stock market has largely shrugged off one bad headline after another, it's getting harder to ignore the obvious: the entire world is still healing from the global near-meltdown of 2008 and 2009.
Few developed economies are on solid footing yet and emerging markets are starting to show signs that their growth is slowing.
"The S&P report is one more reminder that the problems just don't stop with this worldwide economic dilemma. It is one thing after another," said Terry Hanlon, president of Dillon Gage Metals, a precious metals trading firm based in Dallas.
Experts suggested that as long as Republicans and Democrats refuse to play nice and there are worries about whether politicians can really come up with a solid plan to tackle the deficit, gold and silver should benefit from increased fears about the many financial challenges facing the U.S.
The silver (so to speak) lining from S&P's bombshell announcement is that it may create enough fear in Washington so that something actually gets done. But nothing is going to get worked out overnight.
Translation? Gold and silver keep rallying until it's painfully obvious that Congress and the president can come up with a real long-term budget deficit solution.
"Lowering the outlook on the U.S. to negative may be a wake up call for politicians to get their act together, raise the debt ceiling and address longer-term spending," said Eric Viloria, senior currency strategist with FOREX.com, a trading firm based in Bedminster, N.J.
"But for now, the S&P news just adds to the uncertainty. Gold and silver still seem like great safe havens," Viloria added.
Debt issues aside, some said that as long as the Fed keeps interest rates near zero -- a scenario that's likely to persist for the remainder of the year and possibly well into 2012 -- the dollar will continue to be weak. And that's good for gold and silver bulls.
"I would only take profits in precious metals when there's stability in the currency markets," said Jeffrey Sica, President and Chief Investment Officer of SICA Wealth Management in Morristown, N.J. "But the dollar remains in trouble. It's still very vulnerable as long as the Fed is not going to raise rates."
So gold probably will have no problem hurdling over $1,500 an ounce sometime soon and it's likely to climb even higher.
Some even think that the all-time high of about $50 an ounce for silver, reached in 1979 when the Hunt brothers legendarily tried to corner the market, is in reach.
Sure, the metals have enjoyed a spectacular run. The rally can't last forever. But many bearish investors have been doubting the move in gold, silver (and to a lesser extent platinum and palladium) for years now. And they have been consistently wrong.
"It's realistic to be cautious and skeptical. The move has been so vicious on the upswing, people can't help but believe the metals have to slow down," Dillon said. "But even if there is profit taking, the metals should still move back up after a brief pullback."
Keep in mind that the move in silver and gold isn't about industrial demand. Copper prices have fallen lately on fears of slowing growth. But its possible that gold and silver may continue to head higher precisely for the same reasons.
Sica is even more blunt. He said gold and silver will remain attractive as long as partisan politics rule the day.
"The metals trade is all about a loss of confidence in the government," he said. "To me, it's the perfect environment for precious metals to keep reaching new highs."
-- The opinions expressed in this commentary are solely those of Paul R. La Monica. Other than Time Warner, the parent of CNNMoney, and Abbott Laboratories, La Monica does not own positions in any individual stocks.