Stocks sink after U.S. outlook slashed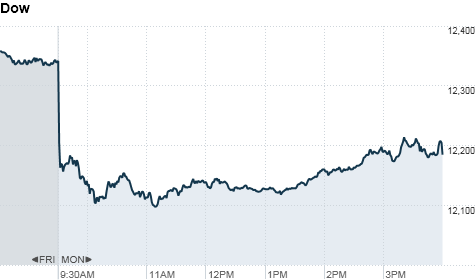 NEW YORK (CNNMoney) -- U.S. stocks cut some losses late Monday afternoon, but still finished the session sharply lower after Standard and Poor's cut its long-term outlook on U.S. debt to negative.
"I would say investors have been anticipating this somewhat, but when the shoe falls, it sends a vibration throughout the market," said Ron Kiddoo, chief investment officer at Cozad Asset Management.
The Dow Jones industrial average (INDU) sank 140 points, or 1.1%. The S&P 500 (SPX) fell 15 points, or 1.1%, and the Nasdaq Composite (COMP) lost 29 points, or 1.1%.
Earlier in the session, all three indexes were down 2%.
S&P kept its "AAA'"-rating on the world's largest economy, but said it was concerned about the United States' ballooning deficit. While President Obama and GOP leaders have unveiled separate plans to reduce the U.S. deficit, the ratings agency said "the gap between the parties remains too wide."
The news sent stocks plunging right from the open, with 92% of the S&P 500 companies finishing the day in the red, and all but one of the Dow's 30 components trading lower. Bank of America (BAC, Fortune 500), Caterpillar (CAT, Fortune 500) and Alcoa (AA, Fortune 500) were the biggest drags on the blue chip index.
Stocks posted their biggest one-day loss since March 16 and are on track to deliver the worst monthly performance since August.
Wall Street's most widely cited measure of volatility and fear, the VIX (VIX), surged more than 12%. But it's still far below 30 -- the level that's considered a benchmark of investor fear.
Nervous investors fled from crude oil, which slipped 2.3% to settle at $107.12 a barrel.
Meanwhile, U.S. Treasuries rose, pushing the 10-year yield down to 3.37%.
Gold, a safe-haven commodity, got a boost, with prices up $6.90, or 0.4%, to settle at a record $1,492.90. Earlier, prices climbed to an intraday record of $1,498.60.
The dollar also climbed, rising 1.4% versus the euro and 0.4% against the British pound. The dollar index, which measures the greenback against a basket of currencies, increased 0.8%.
While Kiddoo is frustrated by lawmakers' failure to compromise in the budget debate so far, he is cautiously optimistic that Congress will be able to work toward an agreement.
And regardless, Kiddoo still considers U.S. debt "the best in the world" and doesn't think its quality is at risk as long as the U.S. economic recovery remains on track.
U.S. stocks finished last week lower as concerns about corporate results plagued the market.
Company earnings: Investors are also on edge as they brace for more than 110 members of the S&P 500 to announce quarterly financial results this week.
Citigroup (C, Fortune 500) reported earnings per share of 10 cents Monday morning, which was slightly better than forecast. The bank's credit losses narrowed for the seventh quarter in a row. Citi's stock ended flat.
"Looking back on the first quarter, we saw very anemic performance from the U.S. consumer," said Bruce McCain, chief market strategist with Key Private Bank in Cleveland. "The earnings season will be a lot more intently examined because of that."
World markets: Issues across Europe also weighed on investor sentiment. Early Monday, Ireland suffered another blow in its debt crisis when Moody's Investors Service downgraded the ratings on Irish banks to junk status.
Finland's True Finns party, which opposes European Union bailouts, won significant ground in the country's coalition government. Their success in the election could be seen as another hurdle facing the EU, as it considers more bailout loans for Portugal.
Reports that Greece may be seeking a debt restructuring didn't help either.
European stocks ended lower. Britain's FTSE 100 and the DAX in Germany fell 2.1%, while France's CAC 40 lost 2.4%.
Over the weekend, finance ministers from 20 of the world's largest economies agreed on guidelines for measuring global imbalances.
On Sunday, China's central bank announced that it is once again raising the amount of capital it requires banks to hold in their reserves, as a way to limit lending and curb rapid inflation in the country.
Asian markets ended mixed. The Hang Seng in Hong Kong fell 0.7% and Japan's Nikkei slipped 0.4%, while the Shanghai Composite rose 0.5%.
Economy: The National Association of Home Builders' Housing Market Index fell to 16 in April. Economists were expecting the index to remain unchanged at 17 points.