The only thing we have to fear is no fear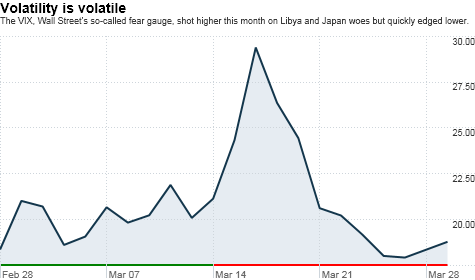 NEW YORK (CNNMoney) -- Consumer confidence may have taken a bit of a tumble in March thanks to rising gas prices, inflation fears and global turmoil. But investors certainly don't appear to be worried.
Stocks have rebounded sharply since the middle of the month -- back when Japan nuclear disaster headlines were making the rounds. The S&P 500 (SPX) is up 5% since March 16.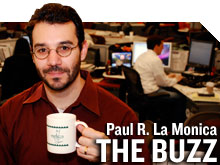 But perhaps more tellingly, the CBOE Market Volatility Index, or VIX (VIX) for short, has plunged a whopping 35% during the same time frame.
The VIX, an index widely referred to as Wall Street's fear gauge, tends to spike during times when investors are truly rattled and fall when cooler heads prevail.
To put the VIX's latest moves in broader context, the index is now at about 19 and traded as high as 31 this month. That level is still way below the index's all-time high of nearly 90 during the worst of the 2008 financial crisis.
So investors weren't nearly as worried about the earthquake in Japan and political unrest in Northern Africa as they were about the demise of Lehman Brothers and near-collapse of AIG. Heck, the VIX was over 45 shortly after last May's Flash Crash.
Still, anytime the VIX moves up and down in a rapid fashion, it's worth wondering if the market was panicking too much while the VIX was high or if investors are growing too complacent now that the VIX has pulled back.
Unfortunately, it may be the latter. According to research from brokerage firm VelocityShares, a fairly decent spike in the VIX followed soon after the previous dozen times that the VIX dropped more than 30% in a quick timeframe.
VelocityShares, based in New Canaan, Conn., does have a vested interest in sharing this information. It is a brokerage firm that offers several exchange traded notes that let traders make leveraged bets on futures contracts tied to volatility indexes. The VelocityShares Daily 2X VIX Short-Term ETN (TVIX) is one of its products.
Still, there are several compelling reasons why large drops in the VIX may only be temporary and that fear and volatility may soon return. After all, the drops tend to take place not when the VIX is flat but after a large run up in the first place.
"Volatility in general is very volatile. When there is a sustained decline or rise in the VIX, it's likely that the VIX will eventually revert back -- at least in the short-term," said Nick Cherney, chief investment officer at VelocityShares.
And more often than not, investors are scared for good reason. Issues that roil the markets are often not solved overnight. They linger.
Take a look at the most recent big tumble in the VIX before this month. That was last May. The Flash Crash and Europe sovereign debt fears were big reasons for the volatility at that time.
Sure, the Flash Crash may have been a one-time blip. But the woes facing Europe's PIIGS are still a problem for the global markets.
Other big drops in the VIX were also tied to events that turned out to be legitimate reasons to worry, such as January 1991 (start of Gulf War and in the middle of a recession), August 2007 (credit crisis fears begin in earnest) and three separate occasions during the final months of 2008 (no further explanation needed.)
While it's encouraging that investors are no longer in full-fledged panic mode about Japan and $100-plus oil prices, the fact that investors have so quickly stopped worrying about these global concerns entirely is a bit alarming.
Stocks have continued to go up despite more unrest in Libya, more scary news about Japan's nuclear reactors and increased evidence that the U.S. housing market has still yet to hit a bottom. Bulls seem intent to keep buying stocks no matter how bad the news gets.
"Negative headlines tend to produce the strongest advances in a bull market," said Richard Ross, global technical strategist with Auerbach Grayson, a brokerage in New York. "We've thrown everything but the kitchen sink at this market and it still wants to go higher."
That's all well and good. But it may be getting a little ridiculous. If the nightmare epidemic from Stephen King's "The Stand" were to happen, you'd almost expect market experts to say the superflu is a good reason to go long drug stocks, construction equipment makers and Campbell Soup.
I'm being a bit glib obviously. It is more healthy for investors to look ahead to a possibly brighter future than continuously obsess about the woes of the present.
Along those lines, the key jobs report for March is due out Friday. And in the coming weeks, most big corporations will release first quarter results. Expectations are for strong earnings growth.
"The market only discounts the same news once. Unless things get markedly worse, investors will focus on something else," said Quincy Krosby, market strategist with Prudential Financial in Newark, N.J. "Right now, investors are looking more towards jobs and the upcoming earnings reports in April."
That makes sense. Ross said that people shouldn't get too caught up in the moves of the VIX. He said investors have to try and focus on the bigger-term picture as opposed to the daily headlines.
Ross added that it's important to remember that the VIX is often not a good predictive tool -- it merely reflects current sentiment.
"The VIX is like the weather forecast. When I go outside and it's pouring, I don't need Al Roker to tell me that I need an umbrella," he said.
Nonetheless, it's still amazing that investors have stopped worrying about the rest of the world that quickly. To use the weather analogy, it's as if people are getting ready for summer just because there was one nice, sunny 70-degree day in the spring. That's more than a bit premature.
Cherney said that the jury is still out on whether the market's less fearful attitude is justified. But he is surprised by how rapidly investors have changed their tune.
"To have such a persistent decline in the VIX during the past week and a half is highly unusual," he said.
-- The opinions expressed in this commentary are solely those of Paul R. La Monica. Other than Time Warner, the parent of CNNMoney, and Abbott Laboratories, La Monica does not own positions in any individual stocks.