Pentagon budget: Time to cut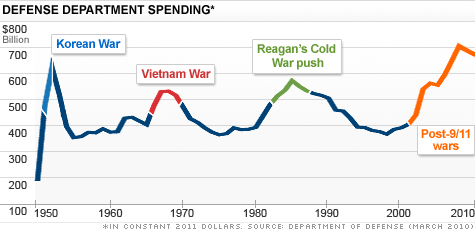 NEW YORK (CNNMoney) -- In the final days of the 2011 budget debate, lawmakers gave the Pentagon a small boost, while they slashed funding for almost every other government agency.
But the Pentagon wanted tens of billions more. Still, lawmakers refused to pony up, a sign that Washington's budget cutting ambition might soon creep into the defense budget.
Since 2001, defense spending has just about doubled, rising to almost $700 billion in 2010. That is more than half of the discretionary budget and about 20% of the entire federal budget.
A few months ago, budget experts stood alone, clamoring for steep reductions in military spending to help put the nation back on a sustainable path.
Most politicians, however, displayed no such appetite.
Now cracks in the armor are starting to emerge.
Last week, President Obama backtracked on his earlier budget and outlined a new plan that would cut security spending by $400 billion by 2023.
"It's a meaningful cut, but not catastrophic," said Gordon Adams, a professor at American University's School of International Service and a former Clinton administration budget official who specialized in defense spending.
The impact of that cut is likely to be blunted because it includes the entire national security apparatus, including parts of the Departments of Homeland Security and Energy.
But the Pentagon will have to surrender its pound of flesh.
Why the sudden willingness to target the Pentagon? The biggest reason is that Washington has a wicked case of budget-cutting fever.
"You can't solve the budget problem without defense being on the table," Adams said. And that fever? "This is a tidal wave that will take over everything."
Already, several credible fiscal plans have called for reducing Pentagon spending by $1 trillion over the next ten years or so.
In the long-run, Adams believes that defense reductions will be closer to the $1 trillion figure than the $400 billion Obama has proposed.
Even with cuts of that magnitude, the military would retain its position as the world's best fighting force, with unmatched capabilities on land, at sea and in the air.
The military has long had staunch protectors on Capitol Hill. Lawmakers who hold key committee seats have been able to use their influence to funnel money to the Pentagon.
Now, with spending cuts all the rage, their dominance might be waning.
Already, the new breed Tea Party Republicans have broken ranks, voting with Democrats to strip funding for a backup F-35 engine program that lawmakers have funded for years.
"There is a circular firing squad going on in the Republican party right now," Adams said. "This issue is far from resolved within the party."
Adams said he has no doubt the Pentagon is now entering a "build-down" phase, as it often does when conflicts wind down. But what exactly will be cut? And who will be there to usher in the cuts?
Obama might still be in the White House a few years from now, but Defense Secretary Robert Gates and the Chairman of the Joint Chiefs, Admiral Mike Mullen, are both headed toward retirement.
Changes in the defense leadership team might impact how the Pentagon adapts to lower funding levels.
The Pentagon spends about half of its budget on troops and support services for them. A reduction in funds will likely lead to a reduction in the number of soldiers in the armed forces.
Another option is a narrowing of the military's mission, and a move away from the counterinsurgency and nation building activities necessitated by the wars in Iraq and Afghanistan.
The military could also achieve significant savings by reforming its health care insurance and retirement programs, which are costing more every year. And there are always weapons systems that could be eliminated.
No matter the cuts, Adams said other nations aren't likely to approach the military capabilities enjoyed by the U.S.
"American military superiority is awesome," Adams said. "That's the only word to describe it. It's stunning."