Silver: $50 milestone coming 'any day now'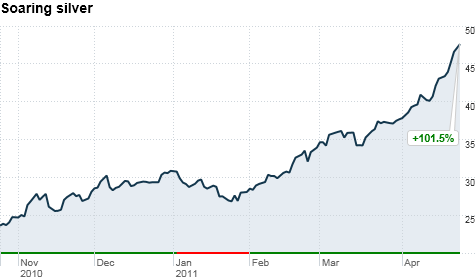 NEW YORK (CNNMoney) -- Silver prices have doubled during the past six months, and are now within spitting distance of $50 an ounce, a key level for the precious metal.
Early Monday morning, silver prices surged 8% to $49.82 an ounce. That was just shy of the $50.35-an-ounce intraday record hit in January 1980, but higher than the all-time high closing price of $48.70 per ounce set 31 years ago.
As the trading session went on, prices pulled back from the lofty levels, with silver finishing the day up 2.4% to settle at $47.15 an ounce.
"The metals are getting a lot of attention right now," said Terry Hanlon, president of Dillon Gage Metals, a precious metals trading firm based in Dallas. "We'll run right through $50 per ounce for silver any day now, and two months from now, we won't even remember it as a benchmark."
Gold prices also continued to shine in record territory, rising 1% to hit a fresh intraday high of $1,519.20 an ounce before settling up 0.4% at a record close of $1,509.10 an ounce.
Both gold and silver, which is often called the poor man's gold, have taken on the role of currencies as the dollar loses its luster and inflation fears run wild, said Hanlon. He expects gold to top $1,700 an ounce and silver to reach $75 an ounce within a year.
"This is a huge safety play," he said. "Investors can't sit on their cash anymore because the value of the dollar keeps deteriorating. To offset that, they're parking money in precious metals."
The dollar index, which measure the greenback's value against a basket of currencies, has fallen more than 6% in 2011.
A number of factors are driving investors away from the dollar and toward safe- haven investments such as gold and silver. Among the reasons are deficit problems in the United States and Europe, and rapidly rising food and commodity prices, especially in emerging markets.
Ongoing political tensions across the Middle East and North Africa also have investors on edge.
"As long as these problems continue to simmer and occasionally surface, we'll see more safe-haven demand from investors for precious metals," said Jeffrey Nichols, managing director at American Precious Metals Advisors.
Nichols, who considers himself to be particularly bullish, says gold prices could reach $3,000 an ounce within the next few years, as silver prices double to nearly $100 an ounce.
But those levels won't come without major hiccups -- 10% to 20% short-term pullbacks -- along the way.
And, when adjusted for inflation, gold and silver prices still have a long way to go. Gold rose to $825.50 per ounce on Jan. 21, 1980, which is $2,238.74 in today's dollars, according to the government's CPI inflation calculator. Meanwhile, silver's inflation adjusted price peaks at $136.55 per ounce in today's dollars.